Exhibit Booth Essentials for Trade Shows & Expo Events
Browse All Exhibit Booths and Accessories
Browse All Products
---
---
---
---
---
---
---
---
---
---
---
---
---
---
---
---
---
---
---
---
---
---
---
---
---
Create a Successful Booth with these Trade Show and Expo Event Essentials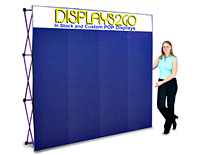 Looking to create an impactful presentation or aiming to add to an already existing display? Our large catalog of exhibit booth essentials has everything you need to create the perfect trade show presentation from concept to completion. Whether you're looking for the basics or something more extravagant, we have the tools to fit every budget. Our exhibit booth essentials are exactly what you're looking for to set yourself apart from the sea of exhibitors you're up against. Take a look at our large selection and see for yourself!
What types of trade show essentials are available?
Pop-up displays and graphics are the epitome of portability when it comes to exhibit booth essentials. These types of presentation pieces come with pop-up style frames and graphics that attach to create a three-dimensional appearance. The countless styles and sizes available, in both floor standing and countertop models, gives exhibitors the ability to find the display best suited for their brand. It's important to make an impact at trade shows, and having an eye-catching display will help bring customers to your location. Choose from curved units, paneled models, backdrop and counter combos, hook-and-loop receptive ones, and double-sided backgrounds. Many of these pop-up displays can be fully customized, with color and text. This gives users the ability to personalize their presentation and spread their brand message as they see fit.
All-in-one trade show kits let exhibitors purchase everything they need within a convenient package. Let us do the thinking and planning for you! We've crafted packages that contain trade show necessities and ones with a little extra. Kits are available with backdrops and tables in a variety of styles, as well as more technical packages that contain TV stands. Accessories like literature holders and table sets are available as well with backdrop packages. We have options for every budget.
Pipe-and-drape backdrops, our most affordable backdrop option, create a classic and minimalistic display. Choose from simple curtain-style backdrops, step-and-repeat designs, or custom printed backgrounds. The modest styling of the displays lets other pieces of the presentation speak for themselves, like the products or exhibitors promoting their business. These backdrops come with a simple frame and require little to no tools for assembly. This makes these models a great option for trade show goers who need to set up and break down quickly or are always on the road traveling to events.
Truss displays are a high-end presentation option that have a commanding presence at trade shows and expo events. These modular systems offer a fresh, new layout compared to everyday trade show booths. Choose from simpler backdrops to complex 12-piece panel displays, L-shaped models and everything in between. Regardless of the style, there's an option for you that will certainly enhance the aesthetics at your trade show space. Many of these units can be fully customized with text and graphics for added brand power at the event.
Portable counters and bars take many shapes, styles, and sizes. Choose from kidney shaped countertops, models with hook-and-loop receptive material, truss style units, ones with custom graphics, and models with features like literature holders/magazine racks and iPad holders - or event iPad holders built in the counters. Countertops are also available that have spaces to lock away valuables and ones that have wheels! To jazz up a business function or even as an addition to a night club, we sell LED illuminated bars with or without custom graphics - they'll be sure to be a hit with your guests.
Tents and canopies are available in both indoor and outdoor portable styles. Pop-up canopy tents come in numerous colors and sizes and are great at outdoor events like farmers' markets and fairs. These tents have options with walls and fully covered models with panels on all sides. Customize your pop-up canopy with custom graphics, these can be personalized with text and artwork of your choosing. Gazebo style models come in different size options and colors as well, and can be fully customized with text and artwork. Essentially portable counters, these units have a built-in canopy and countertops for displaying products and merchandise at trade shows or ticket areas at events.
Accessories for your space can be just as important as the exhibit itself! On this page, you'll find storage cases of all kinds to fit portable models, TVs, and even graphics. There is storage options of all kinds available including hard shells, ones with wheels, lockable units, and ones that can be customized with text and graphics. From mats to interlocking tiles, we have the flooring solution for your trade show space. Rollable carpet comes in many different shades and styles. Interlocking tiles are available with shock-absorbent flooring ad well as hard surfaces. These tiles come in many different finishes, even wood-grain to give the appearance of a hardwood floor. All our flooring options are built to fit a standard 10' x 10' trade show area for your convenience. Don't forget spotlights for your booth either! We have these in a variety of styles, with both LED and halogen bulb options with a clip-on/clamp base.
What's great about Displays2go is that when you invest in your exhibit booth, most of the products have the option of buying replacement graphics. Did you accidentally rip your backdrop before a big event? No problem! Purchase a replacement graphic. This option is also great if you're someone who updates the graphics at your exhibit often but doesn't want to invest in a brand-new product - keep your booth frame and easily update the graphic. Let Displays2go help make your trade show a success and shop online with us today!