Business Furnishings and Equipment for Commercial Offices
Browse All Furnishings & Decor
Browse All Products
---
Shop from a Wide Variety of Chairs, Tables, & Decor from Displays2go!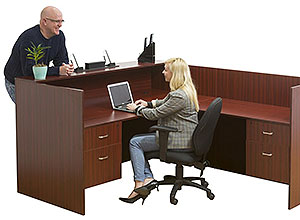 Outfitting your office or lobby doesn't have to be difficult. Displays2go's business furnishings have a lot to offer! From the boardroom to the waiting room, we have the commercial furniture you've been looking for all at a great price. Our business furnishings are available in traditional styles as well as modern and more contemporary designs. Tables and chairs make up the bulk of our product lines, but we don't stop there. We also sell reception desks, entrance rugs, computer workstations, and wall decorations. Browse the sub-categories above to view the full extent of our product offerings. Purchasing professional business furnishings is only a click away!
What can workspace seating and furniture do for you?
Business furnishings start with chairs. Upholstered reception/waiting room styles are designed not to call attention to themselves. These feature comfortable cushions with muted fabric colors that complement any decor. On the other hand, if you are looking for the opposite effect, may we recommend our collection of modern Eames-style chairs. They come with smooth, molded plastic seats and wood-and-wire eiffel bases. An iconic style! These contemporary furnishings make a bold statement wherever they are placed. For temporary setups, we offer lots of folding or stacking options. Anytime a room or hall needs lots of chairs, these are the go-to equipment every school or business needs. For the lounge or trade show booth, reach for contemporary pub stools. These tall chairs are height adjustable and come in many neat designs and styles. Pair these with matching pub tables for the complete arrangement. An attention-getter!
Commercial tables and desks come in many forms. We stock a model to accommodate any application. Our attractive reception styles are a natural extension of the chair sets. Specific tables even feature built-in magazine holders on each end. Large oval models are the traditional choice for meeting and conference rooms. High-top cocktail tables add sophistication to bars and lounges. For the school or office, we offer lots of workspace options. Choose from utilitarian folding tables to training models that come with adjustable height settings and locking casters. Study carrels provide quiet areas for reading or studying, especially in libraries.
Workstations can be purchased as static fixtures or mobile-friendly carts. Many choices for desktop or wall mount displays are available which feature arms for holding screens and keyboards. When employees are on the move, mobile stations provide necessary accessibility. Popularized by the medical profession, rolling carts have also been embraced by repair technicians and production workers. Schools and universities are another sector where mobile workstations have acclimated well.
Peripheral go-withs like entrance carpets perform a valuable service, especially during winter months. By helping to lessen the impact of dirt and grime, these rugs increase the longevity of your expensive carpeting. Place right inside the entrance to catch as much dirt as possible. Anti-fatigue mats provide ample support for those on their feet all day. A layer of rugged rubber covers PVC foam cushion for a comfortable platform on which to work.
Rounding out our collection of interior furnishings is corporate artwork. These feature clear acrylic panels in either single or triptych styles. Our stock imagery offers something for everyone — from scenic landscapes to beautiful close-ups of everyday objects. We print your selection onto the reverse side of the acrylic panels. Sign standoffs are used to mount the display to the wall for a terrific presentation. Custom print service is also offered!
Commercial business furniture, in its many forms, can be expensive. At Displays2go, we pride ourselves on offering the best selection of fixtures to fit any budget. Update your office lobby or design an entirely new waiting room for your visitors. We've got the products you need for creating a fresh and contemporary interior environment!