Sign Display Solutions for Indoor and Outdoor Applications
Browse All Products
---
Professional Signage Products for Branding and Merchandising Efforts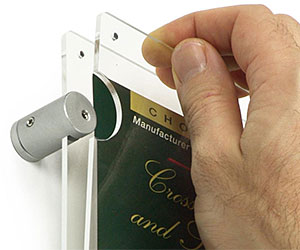 It's all about communication. Being able to convey a simple message is often all it takes to succeed in business. Displays2go's sign display solutions provide the tools to get the job done. Advertising comes in many forms, from printed graphics to LED signage. This is all well and good, but the fact remains they're no good without the physical presentation. Our sign display solutions comprise wall mount standoffs, poster frames, outdoor sidewalk signs, and commercial-rated flat screen monitors. The scale of our online inventory is massive, with each line boasting a wide variety for all budgets. Since our sign display solutions make up the largest part of our catalog, chances are we have what you're looking for!
What makes signage products so important to businesses across all industries?
Sign displays are at the heart of every marketing or advertising campaign. Perhaps the single most important fixture is the picture/poster frame. Whether floor-standing or wall mounted, these affordable holders are designed to highlight promotional graphics. Nearly every retailer, food chain, and movie theater uses them. They inform the customer about seasonal sales, specials, or events. Unlike traditional rear-loading framing, these holders feature front-loading snap-open technology. This provides quick and easy poster changes without needing to remove the frame from the wall. What store manager wouldn't be psyched about that!
Advertising behind storefront windows is another common strategy. Illuminated open/closed signs may appear redundant on the surface. After all, you know when you're open for business. However, if you're not hanging one of these subliminal beacons in your window, an unsuspecting customer may pass you by. We also sell hanging poster rail kits and decals designed for display on or behind the window glass.
Outdoor signage comes in the form of sidewalk signs. The space right outside your place of business is prime advertising real estate. We sell lots of styles, including traditional A-frames, sandwich boards, and swingers. Some models come with wind-deflecting features like water-fillable bases or springs that allow gusts to breeze right by. We stock pavement signs for posters, write-on boards for handwritten messages, and changeable letterboards to name just a few.
Very popular with designers and installers, our sign hardware collection is dominated by standoffs. These simple, yet highly decorative, wall fasteners elevate the quality of any sign installation. Because they raise panels off the wall, standoffs become an integral part of the overall design and presentation. Some of our customers have even incorporated these metal fixtures into merchandising displays like shelves and risers.
Wayfinding systems come in small sizes suitable for mounting to walls or doors. They're designed to designate floors, offices, and restrooms not only for visitors but also employees. Shop from extruded aluminum frames or opt for clear acrylic panels that come with or without custom UV printing.
Our internal graphics department has recently expanded to offer even more sign printing services. Whether you need a custom printed banner for the next trade show or a poster for the sidewalk sign outside the cafe, Displays2go has got you covered! We stock all the popular sign-making materials — including backlit film for light boxes and rigid foam-cor boards.
Displays2go has been in business since 1974 and sign holders and displays are a big part of what we do. They do an excellent job of branding and merchandising while projecting a professional image. For any business to be successful, you need to feed the machine in order to increase your revenue's momentum. Our sign and graphics products can help get you there!