Double Sided Digital Signage Maximizes Visual Marketing Space for Businesses
---
---
---
---
---
---
---
Double Sided Digital Advertisement Kiosks and Countertop Marketing Signage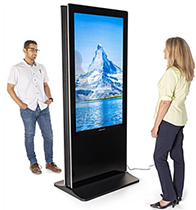 Video and graphic advertisements are a great way to boost sales or share a powerful branded message in public spaces, so it is vital to maximize exposure whenever able. Our line of double sided digital signage includes large-scale floor stands, counter top monitors, and portable fixtures. Deliver impactful brand messaging and create marketing opportunities with our integrated conent management software, giving users the freedom to upload custom media as needs dictate. We offer double sided digital signage with a plethora of options, including those with touch screen capabilities, WiFi and Bluetooth connectivity, or even locking casters for added mobility. Our advertising floor kiosks boost engagement in high-traffic areas with captivating video content and the ability to upload dynamic marketing campaigns on-the-fly or as product sales needs change through the seasons. Portable double sided digital signage makes it easy to place impactful messaging, graphics, and video in business entryways, around events, or alongside promotional areas.
What kinds of dual-sided advertisement kiosks do we offer?
Floor standing double sided digital signage features mobile locking caters and ara a great addition to shopping center corridors, hallways, or retail store showrooms. Place these marketing tools in car dealerships to highlight key product featutures or at events to showcase news, upcoming demonstrations, or site maps. Interactive touch screen models boost engagement and diversify your customer's advertisement experience.
Countertop digital signage is great for checkout counters, promotion or sample tables, and sign-in areas. We see our customers use this technology to assist employees with demonstrating products or services in real time, or to give customers a centralized hub to enter their information when arriving to an event. Each model includes a content management software solution to make new media uploads quick and eaysy
Portable dual-sided digital signage ensures that your message is delivered exactly where it will be most effective. Whether you are a facilities manager of a large-scale shopping center that is centing our advertisemnt space, a retail shop owner prioritizing marketing material between departments, or an event coordinator helping your guest find their away around the venue - these portable options will keep your uploaded videos and graphics up-front-and-center.
Choose digital signage as a way to diversity your marketing portfolio and reach customers in a new, engaging way. While static images, signs, and posters are a must-have staple in any industry, electronic billboards and advertisement signs can be updated as your needs demand seemlessly with integrated content management software while providing vibrant imagry to captivate audiences. Shop our large selection of for impactful, large-scale advetisement solutions for your busniess today. Displays2go provides companies of all kinds with the tools they need to not only reach people with digital signage, but engage with and convert them into customers as well.