Samsung Galaxy Tab 3/4 10.1" Stands and Mounts
---
Samsung Galaxy Tab 3/4 10.1" Stands and Mounts Secure Tablets in Public Settings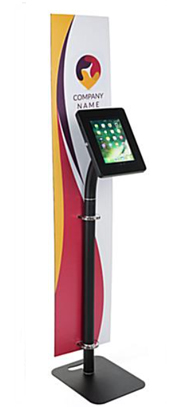 Are you looking for a way to improve the functionality of your digital marketing tools in customer-facing settings? Our line of Our Samsung Galaxy Tab 3/4 10.1" stands and mounts provide retail businesses with locking and articulating frames to not only reduce glare, but the theft of vital advertisement tools. Choose from floor-standing or countertop tablet holders to showcase digital product demonstrations on the sales floor or even as a point of sale system at cashier checkout stations. Trade show exhibitors use these Samsung Galaxy Tab 3/4 10.1" stands and mounts with custom printed banners to expand their marketing potential and increase brand recognition. Many restaurants take advantage of these tablet holders to communicate between the front and back end, manage orders, or offer customers interactive games or menus at their table. Our Samsung Galaxy Tab 3/4 10.1" stands and mounts are great for commercial or home use, making a great addition to remote workstations, personal studies, or even as a reference guide or countertop cookbook in the kitchen. A digital tablet can be quite the investment for anyone, so it is important to secure your device properly without limiting its functionality.
Where are countertop and floor-standing tablet holders used?
Trade show exhibitors often use Samsung Galaxy Tab 3/4 10.1" stands and mounts, especially those with custom printed signage, as an extra hand during events. These mobile advertisement kiosks do well to engage with and inform guests about product lines and services before while the exhibitor assists other clients. For presentations, these holders act as a digital reference guide, providing slideshows and graphics for review during a demonstration.
Restaurant wait staff take advantage of both floor-standing and countertop models as a way to manage seating arrangements, capacity, order tickets, and more. Further, many establishments have opted to provide countertop tablets with pe-loaded games, menus, or other forms of entertainment for their guests to play with while waiting for their food, which can lead to additional revenue.
Retail shopping stores use Galaxy Tab 3/4 10.1" stands and mounts for marketing, inventory management, and payment processing. Collect customer contact information by placing a floor-standing unit at your store's entryway, providing sweepstakes sign-ups or offering special discounts in return for e-mail addresses. Or, use countertop models as a modern point of sale system.
Upgrade the way customers interact with your business by providing them with engaging digital media. Attract attention by working with our design team to create customized banners showcasing personalized messaging and product imagery. Or, support employees by providing them with inventory management systems, reference guides, product look-ups, and payment terminals to do their job from any position on the sales floor. Displays2go provides a wide range of digital tablet holders suited for any brand, make, or model. Explore our options and discover how incorporating new technology into your company toolkit can net additional sales and ease the workload of your employees.