iPad Air 4 Mounts, Stands, and Enclosures for Commercial, Retail & Home Use
---
iPad Air 4 Mounts, Stands, and Enclosures Feature Floor-Standing & Countertop Models with Articulation & Tilt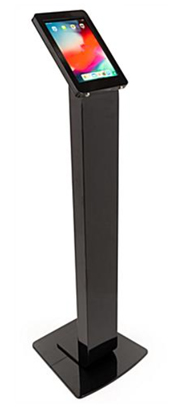 Are you looking for better ways to incorporate your new digital tablet into your in-store or home workflow? Our iPad Air 4 mounts include countertop and floor standing models to not only bring your marketing campaigns to the sales floor but assist customers and employees with streamlined point of sale systems at checkout stations or customized presentations at product demonstration booths . While the majority of our customers take advantage of these digital tablet stands in retail settings using them to manage inventory, share product portals and specs with customers, and assist employees, many of these units find a home in remote workstations. Include an iPad Air 4 mount in your home office to provide an additional screen and improve workflow, assist with content creation or web conferencing, and even act as a reference guide or digital cookbook while in the kitchen. Some tablet holders in this collection even include wheelchair accessibility — a convenient way to help impaired or disabled individuals communicate more clearly or entertain themselves from their seats. iPad Air 4 mounts are a convenient tool for restaurants and bars as well, who use these tablets as a way to communicate orders between the front-end wait staff and back-end cooks, removing the need for traditional paper slips. For trade show booths or retail showroom floors, digital tablet kiosks act as a centralized information hub for customers to view products and services or share their contact information to set up appointments, demonstrations, or be added to email listings.
Which Industries Benefit Most from iPad Air 4 Mounts?
Retail stores thrive when information is easily accessible for their customers, especially when that content is engaging and interactive. The point here is to build a memorable experience that stands out from competitors, which is easily accomplished through curated custom content uploaded to any of these iPad Air 4 mounts. Include product demonstrations, digital catalogs, video, and even games to build a relationship with your customer, give them the power to explore, and inform them of your listings before a salesperson even makes their first pitch.
Trade show exhibitors use both floor standing and countertop tablet holders as a way to engage with guests, manage contact lists, and network. During large-scale events with limited employees, it may take a moment to approach any given guest who may be window shopping booths or just passing by. Some potential customers may be lost if they see your staff is engaged with others. However, by providing a floor standing tablet holder, exhibitors provide a customized self-service portal to communicate with these prospects and pitch the product before a representative can introduce themselves.
Restaurants and bars utilize countertop iPad Air 4 mounts as a way to communicate clearly between the front and back ends of their business, removing the need for paper slips that can be lost, damaged, or sloppily written. Furthermore, many establishments place digital tablets on the tabletops as a form of entertainment for guests while they wait for their meal. This tactic can provide kids with pay-to-play games, customers with digital menus, or even pay-per-view stations which can all keep guests seated longer and spending more.
Take advantage of iPad Air 4 mounts to capitalize on all available space your business can offer. Provide customers with self-service product demonstrations, online catalogs, inventory lookup, and more as a way for them to better inform their purchases before an employee can assist them. These tablet stands are an invaluable tool for employees as a way to streamline point of sale systems, manage time cards and scheduling, and share presentations. View our selection of digital tablet holders suited for any brand, make, or model. Utilize any of these options with Displays2go to protect your investment and amplify the quality of your marketing presentations.