Locking Ballot Boxes with Keyed Access Prevent Theft and Tampering
---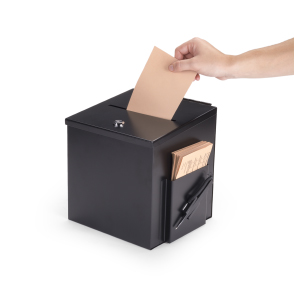 Ballot Drop Boxes with Locking Designs
When it comes to accepting donations for a charitable cause or collecting leads to expand your customer base, nothing is more important than security. Give yourself some peace of mind and protect your assets with one of these locking ballot boxes. It doesn't matter whether it's a monetary loss or somebody's tampered with the entries for your giveaway - a breach of security can quickly deflate any enthusiasm and put a damper on your event. That's why these bins are designed to prevent tampering; each keyed locking ballot box has a slot that's large and wide enough to accept business cards, money, and feedback forms, yet small enough to prevent access to the inside. Head to your next fundraiser confident that you can network without worry! With a mix of acrylic, metal, and wooden locking ballot boxes in a variety of sizes, there are plenty of options to fit your aesthetic. We offer secure collection bins in three styles:
Floorstanding locking ballot boxes work well in lobbies and areas frequented by foot traffic to solicit feedback or collect leads. For example, place these standalone bins in a mall concourse to increase participation in your store's giveaway. Attached sign holders and multimedia screens are set close to eye level to encourage passersby to engage as they move through your lobby or walkway. Lighter-weight models can even be taken to events to generate more buzz around your booth.
Wall-mounted ballot boxes act as more permanent fixtures, accepting suggestions, feedback, and surveys in a central location like a waiting room or reception area. Many feature holders form comment cards and entry forms. Hotels can use these as drop boxes for keycards for patrons that utilize digital check-out services. Some models even have slots that are wide enough to accept traditional room keys.
Countertop boxes are effortlessly portable, allowing you to set up a donation station just about anywhere. Place this secure receptacle on your trade show booth table to gather leads or on a checkout counter to raise money for charity in your store. Easily collect donations for youth sports at a little league game or impromptu fundraiser. These are the most affordable options we offer, making them the ideal solution for organizations with a limited budget.
Each ballot box uses a keyed lock design so there's no combinations to forget or complicated mechanisms to deal with. Many styles include a holder for your custom signage, which is ideal for displaying instructions, identifying your cause, or presenting your brand. Once you've collected contest entries, you might want to give the prize drawing a little more fanfare. Pick up an acrylic or brass raffle drum for promotional events to really enhance customer excitement and buzz around your business.