Surface Pro 7 Tablet Stands Feature Locking Cases & Articulating Mounts
---
Surface Pro 7 Tablet Stands Enhance the Functionality of Your Digital Device at Home and in Commercial Retail Settings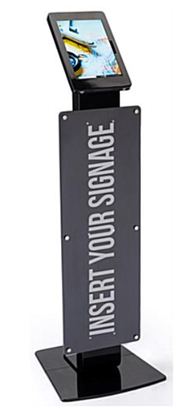 Are you looking for a way to increase the amount of use cases your new digital device provides in the home or workplace? Our Surface Pro 7 tablet stands are designed with quality materials and features to equip your employees with the tools necessary to share quality product presentations and are accessible enough to use for at home reference guides, cookbooks, or as an addition to remote workstations. We offer floor-standing, wall-mounted, and even countertop holders so information can be accessed anywhere including the sales floor, checkout counter, or back office and storeroom. While most businesses use our Surface Pro 7 tablet stands to showcase product slideshows or video content, many take advantage of them as modern point of sale systems for credit card transactions, as inventory and employee management systems, or as a supplemental screen in home offices. Trade show exhibitors use our countertop and floor-standing models, some featuring custom printed banners which increase brand recognition and marketing reach. Restaurants have even begun utilizing Surface Pro 7 tablet stands in every placement to provide entertainment and digital menus at the table with countertop models, to equip wait staff with order placement tools and seating programs from floor-standing kiosks, and back end cooks with wall-mounted digital order tickets.
What Special Features do These Digital Tablet Holders Include
Locking encasements, available on most models, help keep your device secure and tamper-free even in high-traffic customer-facing environments. Anti-theft precautions are vital to protecting your investment in the long-term, while preventing tampering can maintain the integrity of your programs, prevent customers from visiting unwanted sites, or avoid unapproved programs from being downloaded without your consent. Locking Surface Pro 7 tablet stands are as much about protecting your device as they are about protecting your customer and their information.
Articulating mounts not only help avoid glare from the sun or overhead lights, but are a great way to share presentations with others, adjusting the angle when needed so every party can get the best view possible. Likewise, for payment processing at check-out counters, employees can handle the transaction and product entry with the screen facing them, and then tilt or flip the device for the customer to sign or enter their payment information.
Custom printed banners are available on many of our floor-standing Surface Pro 7 tablet stands. Work closely with our in-house design team to create stunning graphic advertisements which showcase product imagery, personalized slogans or messages, and even your company logo. Enhance your marketing reach by giving your advertisement campaigns a larger visual footprint, allowing these banners to inform customers beforehand about what they might learn about once accessing your tablet.
All in all, incorporating digital tablet mounts into your toolkit will only enhance the quality of your marketing efforts, streamline processes for employees, or act as a vital at-home point of reference. Since our Surface Pro 7 tablet stands are available in floor, wall, or countertop models you can be sure that Displays2go carries the right set-up for your specific use case. We provide a wide range of digital tablet holders suited for any brand, make, or model. Support your employees and engage with customers in new and exciting ways by taking advantage of any of these tablet stands.