Wardrobe Racks
---
Systemize Clothing Storage with Portable and Stationary Wardrobe Racks
When a closet or armoire is not available, use durable wardrobe racks to store and organize clothing and accessories. Retail stores love using these portable closets to showcase shirts, blouses, pants and dresses out in the storefront for shoppers to create outfits from. They also utilize them in the dressing room, temporarily storing discarded clothing to stock back onto the shelves. These metal frames can support the entire wardrobe; store everything worn on the head all the way down to the feet! Convenient and affordable, these aluminum wardrobes are popular as both business fixtures and residential furnishings. Some are even equipped with rolling casters that help save trips by allowing employees to roll them through the storefront. Homeowners love to glide them around the walk-in closet with ease. Get creative and build your very own DIY dynamic garment showcase that doesn't use bulky, heavy cabinets or hard-to-access closets!
A steel frame wardrobe is a great compromise for a vendor location with limited space and a lot of merchandise to sell! The styles and models available are built to be user-friendly, long-lasting and space-efficient. For instance, a collapsible wardrobe rack with two rails and rolling casters can be compacted and stored away with ease. When expanded, the rolling dual-bar display can hold everything from button down shirts to handbags. Your customers will appreciate the multi-tiered rack as they sift for their next big score! Present attractive combinations to shoppers by hanging jeans on one adjustable rail and matching cardigans on the other. Watch sales skyrocket when shoppers buy the whole outfit!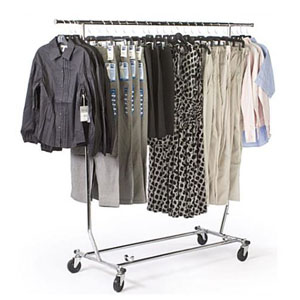 Even when these wardrobe rail racks don't have rolling casters they are much more easily portable than large hutches, armoires and other wooden furniture. Lightweight aluminum and steel allows sales associates to easily move them to desired locations as seasons change and inventory shifts. Try a wardrobe rack with 4 adjustable rails for a center-store fixture that can hold everything from long sleeve shirts to khakis. Simply raise or lower the rails to present the entire wardrobe to shoppers. Homeowners love these in their walk-in closets to organize their formal and casual wear!