Curved Sign Holders - Convex Wall Mount, Floor & Countertop Poster Frames
---
---
---
---
---
---
---
---
---
---
---
---
---
---
---
---
---
---
---
---
---
---
---
---
---
---
---
---
---
---
---
---
---
---
---
---
---
---
---
---
---
---
---
---
---
---
---
---
---
---
---
---
---
---
---
---
---
---
---
---
---
---
---
---
---
---
---
---
---
Poster Frames with Curved Designs for Commercial Signage
Make advertising and marketing graphics stand out with curved poster frames. With convex designs, this modern signage has a 3-dimensional appearance and "pop-out" at viewers and passersby. Each curved poster frame can be changed very quickly for a new sign display whenever desired. Most of these curved sign holders have an anti-glare lens to ensure that customers will get a clear view of the movie print or advertisement graphics from any angle. There is a huge assortment of poster frame sizes available including some of the most common sizes and those suitable for office door signage or wayfinding sign displays. Browse through our catalog of sign holders with convex designs to find one best suitable for you.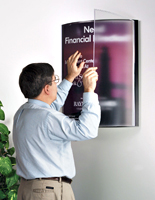 Where can you find signage holders with contemporary rounded designs?
Theater owners like to use these curved poster frames as a unique way to display an upcoming feature or show because they add a three-dimensional appearance. We carry 27" x 40" and 27" x 41" sign holders on our site, which also happen to be the two most common sizes for movie prints. These modern ad frames also make it easy and convenient for employees to swap out signage when needed.
Large business offices tend to label personal offices and meeting rooms, and these contemporary wayfinding signs provide a means of doing just that. Huge corporations buy door sign holders by the hundreds to outfit an entire building. These displays make it easy for clients to find the correct office, without having to ask for directions. In addition, they allow companies to present information in a fashionable manner. Traditional office door signs are typically flat and boring. These have a slight convex framing, giving the displayed sign additional flair.
Hospitals or other doctors' offices use these sign holders for wayfinding solutions as well or to display banners and other informational signage. The convex design is one that will stand out and in an environment like a medical facility. It's important that graphics like maps and charts are clearly seen.
How do you swap out signage? Simply flex the protective lens, remove the old sign, and replace with a new graphic and lens. No need to take the entire fixture down to change the displayed sign. Mounting these convex sign holders is also simple. All the necessary hardware is included with each purchase. More and more businesses are looking for creative ways to attract more attention to increase sales — these holders will do just that. Passersby with stop and notice your marketing signage "popping" out at them from the wall. So, no matter what the need or function — these print displays will help businesses get their advertising display noticed. Stand out from the competition with these convex sign holders. Each one is versatile and can hang either horizontally or vertically for added convenience. Looking for other poster frames? Hanging sign holders in single panel and multi-panel designs are an eye-catching option for any commercial environment. Shop online at Displays2go for quick shipping and low prices!