Gridwall T-Shirt Displays
---
Use Gridwall T-Shirt Displays to Build Clothing Retail Fixtures
Many sporting goods stores, concert vendors and trade show attendants utilize gridwall T-shirt displays as a device to easily present short sleeve apparel to shoppers. Whether the wire wall is a portable tower, or it forms the backdrop to a booth, the tool-free mechanism of the hooks makes stocking the display a cinch. Promotional T-shirts, summer tour souvenir apparel, or the new star rookie's jersey are all best vended using the hassle-free construction of gridwall T-shirt displays. With their height and prominence over shorter racks or tables, they are especially effective when selling to a large crowd. T-shirts and other apparel with sharp graphics and logos are known to draw an audience for promotional and commerce activity.
Gridwall T-shirt displays come in a variety of shapes and sizes. Hooks, holders, baskets and hangers are all used to organize folded t-shirts for purchase. Pegged accessories, especially hooks, allow the vendor to suspend T-shirts and other apparel in perfect view of the crowds. With a quick-attaching base and upturned faceout, these gridwall accessories welcome T-shirts of all sizes. Available in either black or white, choose a color that matches the wire panel backdrop. Make sure to select a length that is adequate for enough clothing items to last without frequently replenishing inventory. One commonly used piece of hardware is a 12" metal gridwall faceout hook.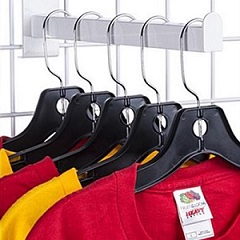 Another option is a waterfall hook. The advantage of this type of gridwall display is that it separates the merchandise, allowing the vendor to easily identify different sizes or styles of an article of clothing and provide them to the customer on the fly. Many booth attendants find it useful to insert gridwall baskets into the lower portion of the panels for additional storage of T-shirts, or even as grab bins for extra accessories.
Who uses these gridwall T-shirt display accessories?
Concert Vendors
Trade Show Attendants
Sporting Goods Retailers
Street Souvenir Vendors
College Bookstores