Posted on 02, April, 2015
Last Modified on 21, June, 2019
Shop Products from This Guide
Knowing that you need a crowd control system for your business is only the first step. Determining how many posts and belts you need, how to set up your stanchions, where you should put signs can also be quite a task. You'll want to think of colors, whether you want professional black posts with retractable belts or upscale brass post and rope stanchions. In this article we'll guide you through a few common stanchion configurations that should help you get the ball rolling with your business's stanchion design.
Normal Setup with an Express Lane
This is one of the most popular setups. As you can see below, this design features a "normal" lane for a large quantity of customers. There is then an "express" lane which is commonly used for business customers, VIPs, handicapped patrons, or any customers you want to give the white glove treatment. This is a setup most commonly seen in banks, but can also be used for car rental lines, and ticket lines.

U-Shape
This stanchion format is ideal for ticketing offices and businesses with slower service. As you can see, the layout is for a single line but helps optimize floor space by guiding customers in a weaving pattern. A large number of patrons can get into this line to wait for service. This may look familiar to a waiting line you might see at an airport when checking in.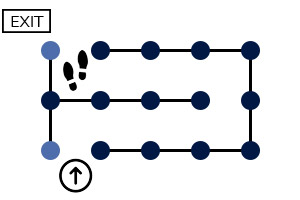 L-Shape
Normal L-Shape
Here is a simple design great for a cashier's line, fast food restaurant, coffee shop queue, or concession stand. Use top-mounted stock stanchion post signs for directing traffic. These sign toppers comes in all types of post finishes. Stanchions also come in many different colors including black, gold and silver.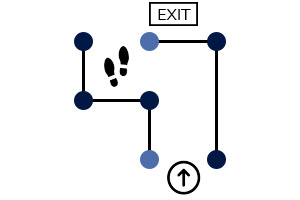 Normal L-Shape w/ Express Lane
This configuration is a common version of a teller station. This layout is perfect for smaller banks, airports, gift shops and concession lines. Different types of signs are available as well as many colors of rope to match any business decor.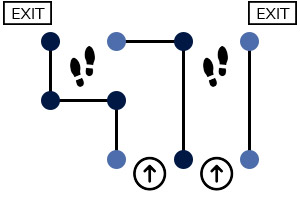 Don't Forget Signs!

In order for your customers to be able to differentiate lines and have a smooth queue, you must bring informative signage into the equation. Many signs feature pre-printed messages, while others come with replacement letters for constantly changing signage needs. When purchasing signs for your new crowd control queue line you must remember that no sign is complete without a frame. The sign's frame will usually attach right to the top of your posts or stanchions very easily. This type of stanchion-top sign is great for restaurants, banks, hotels, airports, and any other business setting you can think of!
Now, go have fun mixing and matching some posts, belts, ropes, and sign toppers in your business. These crowd control configurations are just what you need to get going with your line setup!