Posted on 03, November, 2017
Last Modified on 06, November, 2017
Shop Products from This Guide
'Tis the season to buy your friend that owns a retail store a gift. That's hard. How do you get the person that knows how and what to buy — and makes a living at it — a present they will actually use and haven't already bought for themselves? Why not make their working life easier with products to help them merchandise their products? You could even end up getting the best gift award for your realistic contribution. WIN!
1. Weighted Sidewalk Signs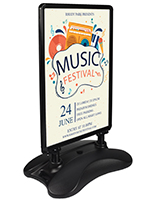 Present a super effective sidewalk sign to your retail friend and you'll feel like a champion. Curbside signage is eye-catching, portable, and truly gets people in the door. This is a great product to give to any store owner!
2. TV Stands for Digital Advertising with Wheels!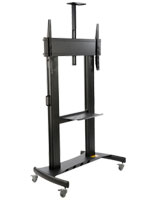 TV stands are a versatile tool for the modern the retailer. Many shop owners choose to display running advertisements among their merchandising displays to add extra oomph to their campaign. A TV stand on wheels no less? We hear a marketing superhero is coming to town! Your friend will be super excited to get one of these for their store!
3. Comment Boxes with Signage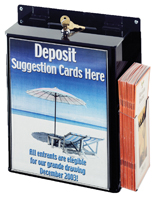 In a customer-centric world, gathering organic feedback from shoppers is synonymous with survival. Grab your retail buddy an easy ballot box for gathering consumer data. Not your typical gift, but just may help your friend make some positive strides with their business strategy. Hey, we said we were being realistic!