Posted on 24, November, 2015
Last Modified on 25, July, 2019
Shop Products from This Guide
So, you're in the market for a laptop or tablet charging station? There are many industries that can benefit from laptop charging carts including schools, government offices, and technology companies. With the use of laptops/tablets on the rise in these establishments, it's important to keep these valuable devices safe & secure, especially while they are being charged and/or stored. There are so many reasons to use a charging station, so be sure to read up on all the different models out there so you can choose the most practical solution for your business or organization.
Overview Checklist
Capacity: Make sure you have the same or more bays in your charging station as the devices you own.
Compatibility: Do your devices fit into the charging station?
Mobility: Purchase a charging cart with casters/wheels if you are looking for easy maneuverability.
Security: Order a steel/metal charging cart with locks to protect your investment.
Capability: How do you want your devices charged? One at a time or multiple devices at once? See recharging capabilities.
Ventilation: Make sure the product features a perforated design that dispels excessive heat build-up.
Size Matters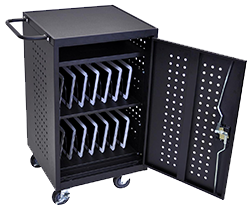 Start by considering the size of the technology that you will be charging. If you are charging laptops, you will want to make sure you have a cart with large enough specifications to accommodate your laptop size. If you are only charging tablets and e-readers you might be able to save some money by purchasing a smaller laptop charging station. Just keep in mind that if you see your establishment using laptops down the road that it might be worth the upgrade now.
Capacity
As mentioned, keep in mind any future plans to purchase more devices or to update your technology. Knowing how many laptops or tablets you have and potentially will have is important when choosing the right tablet charging cart for you. It may sound obvious, but make sure you have enough slots and outlets in a cart to more than accommodate your needs. Spending a little more for some extra room is smarter than having to purchase an entirely new iPad charging cart later. Just to give you an idea, some of our carts give you the opportunity to hold up to 42 laptops and tablets!
Mobility
Depending on how you're going to be using your charging station, it may be worth looking into a unit that features casters or wheels. A mobile charging cart is perfect for companies and academic institutions where devices are often shared between multiple classrooms or departments. If you won't be keeping your laptop storage cart in another room for sharing with others, a fixed tablet charging cart without wheels can be great too, especially for the price.
Material
These charging stations come in many materials but the most common is steel because of its strength and durability. Laminate charging stations are great for places with less concern of security and more for the main purpose of charging your electronic devices. Wooden charging stations are popular because of their custom and more rustic look. Wood structures can provide security, but are not as strong as metal or aluminum. Make sure you purchase a heavy duty, rugged charging cart if it will be used by many people. This way, the cart will withstand frequent and repeated use!
| Material | Description |
| --- | --- |
| Steel / Aluminum | Aluminum & steel construction is the best. |
| Laminate | Looks great, but breaks easily. |
| Wood | Great for custom laptop / tablet charging stations. |
Security
The sole purpose of purchasing a charging station is to not only give your electronics a full charge, but to make sure tampering and stealing doesn't occur while the charging takes place. Many of these stations are compatible with locks or include key & combination locks with the purchase.
Recharging Capabilities
Some tablet charging stations also feature a back panel for accessing power outlets. This feature is ideal for situations that require many tablets or laptops to be charged simultaneously. Make sure the stations feature not only the proper number of connections but the right connections themselves. Not only do we offer iPad charging stations, but we also have models that will work with technology from companies other than Apple. If you're tablet selection features several different brands or models, be sure to do your research and pick up any additional connecting cables you may need.
Ventilation
If you find a laptop storage cart that does not feature any ventilation, don't even think about purchasing it! Move on to the next option. Ventilation is another incredibly important feature of a charging cart. When charging or running devices, heat can build up pretty quickly. The ability to dissipate heat generated by the laptops and tablets is crucial for prolonging the life of the devices. Vents are usually located on the front, back, and side panels in form of cutouts or perforated detailing, which allows for air circulation when the storage unit is closed.
Time to Buy
Now that you know all about the various features of tablet charging carts and why they are so desirable, you can make a much better decision for your application. Weighing the security, uses, types of technology, and other needs of your establishment will help determine which charging station or cart is right. Remember, purchase the unit that provides all the necessary features to make sure your students, staff, or other users can get the most out of your handheld technology.