Posted on 27, August, 2015
Last Modified on 16, December, 2015
Let's learn the proper etiquette on how to fold a flag! If you're displaying a flag at a veterans memorial, funeral, or in a flag box, you'll need to know how to fold a flag properly. Below, we demonstrate how to correctly fold a flag in step-by-step instructions with images and a video to match!
Instructions

Share This Infographic On Your Site
Feel free to print out the infographic above or share the text below.
Two or more people are needed to fold a flag so that tension is applied throughout the entire folding procedure. Remember not to let the flag touch the ground at any point during the folding process.
Fold evenly in half lengthwise by folding the left half over the top to meet the right half.
Fold the flag in half lengthwise a second time - making sure that the union (the blue rectangle with the stars) is in full view.
Start the first triangular fold on the striped end of the flag by bringing the folded edge up to meet the open edge.
Bring the outer corner of the triangle inward, parallel to the open edge to keep the triangle shape.
Fold the left bottom corner towards the right side so that it creates a 45 degree angle.
Fold the flag in this way 12 times so that just the union (the blue rectangle with the stars) is showing.
After the 12th fold, tuck the remaining end of the flag into the top pocket of the triangular fold, working the piece down into the pocket along the sides. Inspect the nose to make sure no red is showing.
Flag Cases and Pedestal Bases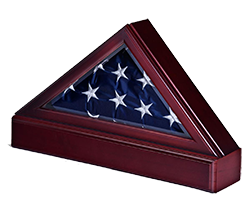 Flag cases come in many different sizes, colors, and configurations. We only carry the most professional flag boxes, which are perfect for memorials, military funerals, or to keep at home as a remembrance. Available wooden finishes include cherry, oak, light oak, and black. Some styles have a section for pinning awarded military medals and ribbons. A flag case is the perfect gift for a friend or family member that is or has been in the service.
Resource: The American Legion