Hat Display Stands - Slatwall, Floor Standing, and Countertop Racks
Showcase Hats on Floor Stands or Countertop Racks To Increase Sales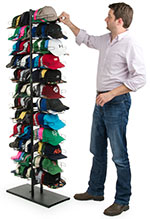 Hat display stands are an effective tool for efficiently merchandising your selection of headwear. While it's important to retailers to first focus on store fixture staples like shelving, display tables, and register stands, accessory holders are the finishing touch needed to help move inventory of your speciality items. This collection of hat display stands offers multiple options for a variety of store layouts. Countertop racks sit comfortably on any table and are ideal for smaller headwear selections or highlighting single products. Floor standing hat display stands focus on larger inventory and pack a lot of merchandise into a relatively small space, while still allowing customers to browse for a new baseball cap with ease.
Is your store already equipped with slatwall configurations? Incorporate a single-product hat display alongside coordinating items to inspire and entice customers. Sporting goods stores can really benefit from slatwall, as baseball caps and athletic sneakers go hand-in-hand, prompting patrons to accessorize them together. With an easy to rearrange setup, employees can save valuable time for other important tasks, making slatwall hat displays one of the simplest, yet most effective ways to outfit your specialty store.
Floor standing and countertop hat display stands work equally well as either the main focus of your planogram or as a quick impulse-buy option near the register. Whether your store focuses solely on selling baseball caps and beanies or headwear is part of a broader assortment of clothing or gifts, the right display rack is key to meeting your sales goals.