22x28 Poster Frames
---
Find Frames for 22 x 28 Posters and Printed Signs for Sale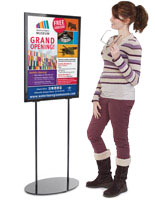 Looking to hang a 22x28 sign or poster? The expansive selection of framing accessories listed above have everything needed for properly hanging a 22 x 28 print. Not only are there traditional wall mounted designs, but also there are several frame stands. No matter which type of framing is chosen, the exceptional quality and affordability provide an excellent solution. There are a number of frames that come with fast-loading designs, like snap-open, slide-in, and hinged models. Different materials are available as well, which range from cheaper plastic and acrylic to more durable wood and aluminum. Think about the location and use of the frame before choosing the best system.
Sign and Poster Displays that have 22 x 28 Dimensions
Whether you are a retailer, office manager, or just a personal hobbyist, our selection makes it easy to set up an incredible presentation. Several wall hanging frames can be arranged in series to showcase a collection. Other times, a floor stand works well to grab attention from customers entering a sales location. Offices frequently have the need for safety signage and emergency plans, so the proper framing is especially important. The acrylic models are clear and ensure that inserted prints are not obstructed in any way. These options are perfect for developing comprehensive navigational and informative displays. Shop the huge inventory at Displays2Go for all the finest framing solutions.