Coffee Station Organizers For Airpots, Urns & Condiments
---
Organize Counters and Checkout Stations with Coffee Condiment Stations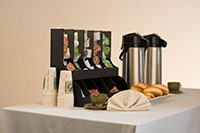 Despite peoples' best efforts, the hustle and bustle of coffee shops can often leave counters looking like a disaster scene. Luckily, Displays2Go offers a solution to organize those areas and keep them clean before they get too out of hand. Coffee station organizers can contain airpots, urns, creamers and all your condiments like sugar packets in one place. By consolidating all these items into one area, you help contain the mess, making it easier for employees to clean and customers more impressed with the condition of your shop.
Coffee condiment stations are also great for using as self-serve stations. Buffets, cafeterias and convenience stores use these displays as an area where customers can serve themselves coffee and then pay at the register. Wire dispensers feature drip trays and hold multiple urns. The full combination airpot stands hold several airpots, slots for cups, condiment storage, and metal grated drip trays to prevent it from getting to messy. Many employees of convenience stores, like 7-11 or Cumberland Farms, don't have the time to be a barista and a cashier. Self serve stations let customers do all the work, freeing up employees to take care of other needs. Try combining a wire airpot stand with cup and lid organizers to conserve place while giving customers everything they need in one location.
What are some of the standout features of these coffee stations?
Drip trays can be purchased as add-ons or are already built in to many of these condiment organizers.
Condiment storage pockets fit any type of sugar packets, creamers and straws for customers to easily access them.
Individual airpot and urn slots give retailers places to put different types of roasts, regular/decaf or cream/whole milk/half & half in different slots. Just make sure to label!
Many cafe organizers work well residentially or in the office as well. With the growing popularity of the Kuerig machine, many people look for various storage containers for their K-cups. The organizer with clear acrylic front pockets comfortably stores K-cups and people can view the different types without having to dig their hands in. Hosting a party? A coffee station is an affordable solution for you to setup self-serve coffee for people to grab before they head out.
No matter the type of business, purchasing the right products will streamline the drink self-serve process. While messes are unavoidable when it comes to creamers and sugar packets, a well placed an organization station will keep the office, cafe or home that much cleaner. Help out employees and customers alike by setting up an easily accessible area to help feed those caffeine needs.