Miniature Display Case
---
Miniature Display Cases - Small Curios & Boxes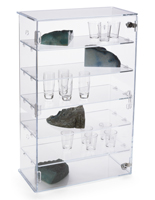 Why use a miniature display case? Have you ever wanted to display one of your collections or collectibles, whether it be action figures, thimbles, or china, and couldn't because you didn't have a safe place to do so, or room for a full sized showcase? With a miniature display case, you can securely and attractively display figurines on any countertop, table, or shelf! Because these small curio cabinets are designed to sit on a counter, you don't need any free floor space to use them! Plus, their protective cases will shelter your valuables from any unwanted tampering or accidents!
Styles of Miniature Display Cases
Displays2go stocks small showcases in a wide range of sizes made from a variety of materials. Models popular among our customers for displaying miniature are our acrylic boxes. These collectible cases are extremely durable and easy to clean thanks to their non-glass construction and feature locking doors, shelves, or risers, depending on the product. Other miniature display case options are made of tempered glass. If the tempered glass should break, there's no need to worry about your collectibles being damaged, as this style of safety glass shatters into very small, safe pieces. Find these styles of showcases with adjustable shelves, locks, clear sides, rotating centers, interior lights, and more!
Don't see what you're looking for today? Not sure if your figurine or thimble collection will fit? Just reach out to our customer care team through live chat or by phone at 1-800-572-2194, and someone would be happy to offer suggestions to fit your needs! Happy displaying!