Office Door Signs with Stock and Interchangeable Graphics
---
Door Signs for Office with Pre-Printed or Custom Messaging
Are you looking for a clean, attractive way to display directional signage or label conference rooms and personal workspaces? Our office door signs, often used as name plates, are great for denoting meeting areas, identifying employee desks, and helping visitors find their way around. Guests who are unfamiliar with your building will be able to find the area they're looking for with ease. Often found in hospitals, law firms, and private businesses, office door signs with changeable inserts can be easily swapped out with new information when a new member joins the team or when you reorganize your space. Our most popular of these versatile name plates include templates so you can print your own inserts with a laser printer. Pre-printed office door signs with stock graphics are also available that identify bathrooms, conference rooms, areas for employees only, and more. Direct patrons and visitors efficiently with clearly-visible wall-mounted signage.
What styles of office door signs are best for me?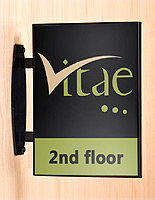 Clear acrylic office door signs are a great DIY option that's quick and easy to do at home. Each kit comes with a set of pre-scored film sheets and downloadable templates to help you make the perfect label on your first try - no professional printing required. These placards make especially eye-catching holders emergency evacuation route maps. Choose from rectangular, curved face, oval, or aluminum-backed styles.
Double-sided, perpendicular-mount wall door signs extend off the surface they're attached to, creating highly-visible markers for visitors to navigate by. The non-glare snap out lens makes it easy to load in your own artwork and change out on the fly. Mount to either the wall or ceiling with the included hardware for additional display options.
Adhesive holders take the stress out of installation and stay firmly attached to the surface of your choice thanks to the included 3M™ VHB™ (Very High Bond) tape. Multi-panel units are ideal for creating directories, while single displays make great name plates or flavor-of-the-day frames. Snap out clear lenses make swapping informational graphics a breeze.
For short-term or frequently-changing signage, consider a clear plastic holder sleeve. Available in many standard media sizes, these window and door signs attach via adhesive tape or suction cups and work well for restaurant menus, event postings, or temporary informational posters - think "recording in progress," "out to lunch," or "do not disturb." The simple slide-in design makes it easy to change out your messaging often.
Looking for a quick label for your restrooms, conference rooms, or workspaces? Pick up our corporate door signs with stock graphics. The clear acrylic labels come with pre-printed messaging like "men," "women," "employees only" and more - all with matching modern styling. Each unit comes packaged with all the hardware necessary to mount right out of the box.
In the world of wayfinding and corporate signage, there's so much more than door signs. Our stock, custom, and interchangeable wall mount options come in acrylic and metal, with a variety of aesthetic choices to perfectly suit your building. If you're looking for easy-to-use, attractive door signs to help make your business, medical facility, or school more navigable, Displays2go has you covered!