Samsung Galaxy Holders & Stands
---
Advantages of Using a Stand for Your Samsung Galaxy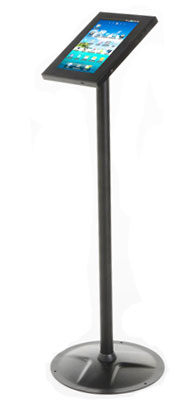 Using tablets in stores, restaurants, and businesses is no longer a trend, it's a necessity. Why are so many owners and managers using mounts for their Samsung Galaxy?
Data Collection

Set up a kiosk to have customers fill out personal information to register for contests and promotions.
Have customers check into a restaurant or hotel.
Use tablets as a cash register and directly collect sale data for analysis and efficient record keeping.

Presentation & Marketing

Show customers you're a current, trendy business.
The large screen of the Galaxy is easy for customers to interact with.
A tablet-centric checkout station is much more impressive than a boring old cash register.
With so many uses for a tablet, it's important to make sure you choose the right stand. Whether it's to market products, sell services or a checkout station an effectively used tablet stand can take your business to the next level.