Amplivox Electronics Enhance Presentations & Speeches
---
Looking for a public speaking sound system with dynamic range and crisp performance? Look no further. The electronics brand Amplivox produces portable presentation speakers, microphones and lecterns to amplify speeches, lectures, training sessions and more. This innovative brand is a leading manufacturer of public address systems and sound systems for businesses, educational institutions and special events! Whether you're in the market for a lectern with an integrated sound system for the conference hall, or a portable PA to take on company outings, Amplivox has a sound solution that will rise to the challenge and provide years of reliable exellence.
Displays2go carries lines of portable Amplivox products that are designed to equip any speaker with the technology they need to carry out their public address to large audiences.
Lecterns:
Lecterns and podiums with wireless integration are commonly used in large auditoriums and lecture halls as part of a public address setup that includes the in-house sound system. Amplivox produces these podiums in a variety of designs, with oak finishes, waterproof shells, built in clocks and timers so you don't run over time, and handles which allow for easy lifting and portability. The 50 watt output, 16 channel wireless receiver and Bluetooth® technology that is integrated into many of these lecterns makes them both durable and sophisticated in the digital age. For outdoor use, including graduations, commencements, inductions and more, try a rolling weather-proof portable lectern from Amplivox for a portable fixture that stand up to the climate and help the show go on.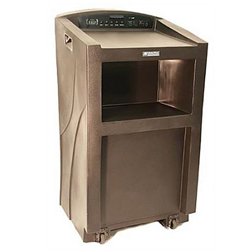 Portable Public Address Systems:
For public speaking on the go, own a wireless portable PA system that can be taken anywhere: Sporting events, outdoor ceremonies, grand openings, corporate events and more! Choose a portable sound system with a microphone, and with a carrying case, a tripod, shoulder strap and more for pain-free transportation. The 8-channel receiver allows ample input, and the 250 watt power is sufficient to amplify sounds to an audience of up to a thousand people. A small portable sound system with a remote control gives the speaker dynamic mixing flexibility on the fly and makes for a simple soundcheck. These Amplivox sound systems are powerful digital systems that can be relied upon, especially for momentous events.