Double Sided Easels - Chalkboard, Magnetic & Kids
---
Two-Sided Easels are Great for Kids' Activities!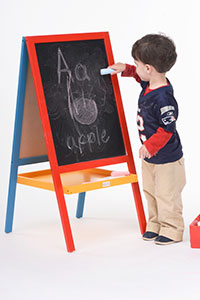 Have a busy classroom full of youngsters? Double sided easels are a great way to conserve space while allowing multiple children to to work on the same stand at once. These displays will also comfortably fit flip charts for teachers to have pre-prepared lessons ready to go. Chalkboard styles of a double sided easel are ideal for kids doodling, making art, or teachers jotting down notes while giving a lecture. Dry erase boards offer similar benefits without any of the dust! Many of the children's two-sided easels feature trays to hold chalk, markers, or paint brushes. Some models in this easel section even feature magnetic backers for parents to hang up kids' drawings or artwork!
Give Combo-Boards a Shot!
Some of these 2-sided boards feature a chalkboard on one side and a dry-erase surface on the other! How fun is that? Versatility like this is tough to find on many classroom or home art displays and can be a valuable tool. Many dry-erase surfaces are also magnetic so children (or adults) can play with magnetic letters and shapes while drawing or spelling. Many young students often learn best by using multiple visual aids. Some easels are also portable, ideal for teachers that work in different classrooms throughout the day. If you plan on giving your grandkids the gift of an art easel this year, why not try one with two different sides to get more bang for your buck? With chalkboard and dry erase board sides, kids won't quicky tire of drawing or practicing their letters!