Locking Bulletin Boards Protect Important Messages
Top categories for: locking bulletin board
---
Bulletin Board Enclosure with Lock & Key for Indoor & Outdoor Use
A locking bulletin board is a vital asset when a company or organization plans to display important information and notices. Displays2Go has aluminum locking boards for outdoor use. Each of these models has a plexiglass or glass covering that will prevent notices and posters from inclement weather. The pinboard cylinder lock engages easily with an included set of keys. Some wall mounted boards include a header to inform viewers about the topic of the outdoor message board. Wooden lockable corkboards make great indoor informational boards. Some examples of finishes include cherry, maple and oak. The high quality wooden bulletin boards offer a more professional look which can look great in any office building or practice.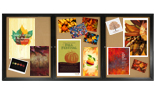 Where can locking bulletin boards be used?
Schools and other educational venues for securely showing information, upcoming events and awards.
Small and large companies for displaying benefits, news and important information.
Churches and places of worship for advice, service times and community resources.
Museums and historical buildings to display maps, directories and historical artifacts.
Libraries, schools, businesses and churches are known for having outdoor & indoor bulletin boards that lock because they frequently need to inform their employees, students and public viewers of important information or future events. Lockable bulletin boards serve as universal message boards for any public organization. Also available are one, two and three sectional locking designs that help separate items, events or information. Many times, these models are used to allow separate groups to add items to different sections while keeping everything organized and easy for the public to understand.