Wire Stands for Displaying Books, Greeting Cards, CDs, DVDs & More
---
Wire Stands for Hard Cover Books, Magazines, CDs/DVDs, Postcards & More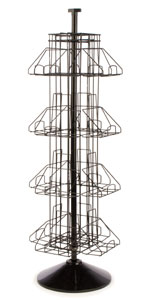 These wire stands that hold literature are ideal merchandising systems for retail stores. Most of the free-standing racks are designed for displaying publciations and reading materials, although some can be used to showcase merchandise and retail products as well. There are even wire stands, otherwise known as metal display racks, that can hold both. In this category, shoppers can find durable holders that are perfect for selling greeting cards and postcards in drug stores as well as hardcover books and magazines in bookstores. There are also metal display racks that exhibit the latest titles and releases at music shops. Take a look at all the stationary and revolving wire stands to find the right model for your retail sales location.
What are some of the most notable amenities these metal display racks provide?
The merchandising wire stands feature a durable yet lightweight construction, which is ideal for busy stores and other businesses. Each unit is relatively portable and can be moved around with ease. In just seconds, retailers can rearrange the look of their establishment while increasing sales.
Many of the selections feature multi-purpose or dual use designs. For example, there are wire displays that will accommodate literature but may also fit CDs or DVDs. Be sure to read each product description for the full details on their merchandising capabilities.
Another important facet of the metal display racks is that they come in both fixed (stationary) and rotating configurations. Fixed systems are great for placement in middle of sales floors or along broad walls. Revolving designs are more suitable for those tight places where exposure is crucial. Because the merchandising holders spin, customers can see a great selection without moving around much. Get the most out of your limited retail space with a rotatable rack.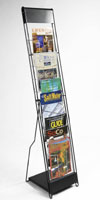 One of the main differences in design to consider when purchasing a metal rack is whether or not the merchandise will fully show or be slightly covered. We offer tiered, stack-style, and full-view displays. The tiered, or cascading, holders are designed so that the utmost portion of the publication or retail item is showing. The advantage of this type of design is that many more magazines, books, and brochures can be exhibited at one time while maintaining high visiblity. Many of our book stands, however, have open-face shelving that displays the full cover. This way, titles are clear to customers and they can get a good idea about the novel or textbook before they grab it off the shelf. Still there are additional stack-style holders that organize larger periodicals and publications. These racks for literature are ideal for tabloids, newspapers, and other weekly or monthly selections. Many people utilize these display systems when the all the presented publications are the same. Daily papers and other newsprint materials sell very quickly when organized in this fashion.
How does the minimalist design of these wire display racks help the user?
First of all, the robust construction provides excellent durability without requiring too much material. Rather than bulky wood or solid metal designs, these holders limit waste, lower production costs, passing the savings on to you!
Wire is also perfect for ensuring that publications and other reading materials are visible at all times. Each pocket gives viewers a clear look at the various selections being offered.
Not only does the lower production cost save money for the end user, but also the lightweight construction costs less to ship. Unlike heavy wooden or metal systems, these wire floor stands ensure that shipping is affordable.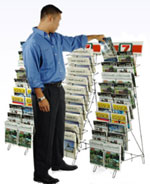 Our wire magazine displays are stocked and ready for quick shipment. In addition to our magazine holders that hang on the wall we have over thousands of point of purchase presentation products including greeting cards and postcards display. Supplemental product lines beyond integrate display cases and custom retail merchandising displays for showing off your sale merchandise.