Wooden Country Store Displays For Antique & Gift Shops
---
---
---
---
---
---
---
---
---
---
---
---
---
---
---
---
---
---
---
---
---
---
---
---
---
---
---
---
---
---
---
---
---
---
---
---
---
---
---
---
---
---
---
---
---
---
---
---
---
Country Store Displays Offer Antique and Specialty Shops Functional, Traditional Decor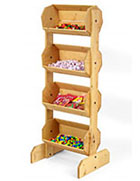 One of the major difficulties for antique stores is finding storage and shelves to match your merchandise. A lot of times many of the items inventory is being displayed on is actually for sale itself! Retailers need a more permanent solution. That's where these wooden country store displays come in. Wooden barrels, a-frame shelving and baskets are all great permanent fixtures for displaying merchandise. One of the biggest benefits of these fixtures is that while helping conserve space, they blend seamlessy with any rustic decor.
Wooden Maine barrels are becoming increasingly popular for merchandising products or food. Barrels are often seen displaying fruits and vegetables at farmers' markets. Own a vineyard or wine shop? Using retail barrels to display merchandise like t-shirts or hats is a unique way to keep a central theme maintained. Different models are offered to meet specific needs. Open-front, flat back (for wall displays) and false bottom models are available.
What are some popular store settings for these country store displays?
Antique Shops - This is the most likely place to find wooden store fixtures. The nature of the products and desired decor is a natural fit.
Farmers' Markets - Using barrels and wooden basket stands to display fruits and vegetables gives off the "old-fashioned, down-to-earth" vibes that many people look for when shopping at a market.
Flea Markets - Along the same lines of using them at fruit stands, people shop at flea markets for the "country" feel. Adding wood displays really pull it all together.
Gift Shops - Certain stores may want more traditional-looking bulk storage. Wooden a-frames are the ideal solution.
Different wood finishes are available to match different settings and layouts. Unfinished cedar provides a lighter look, while the finished oak is better for darker shades and settings. Some displays also feature metal accents or frames which nicely contrast with the wood and provide an overall sturdier display.
Displays2Go also offers less traditional wooden displays as well. Check out our huge selection of wooden display cases in the Howard Miller line. Wooden display easels are great ways to put up new events, advertising posters and artwork. Some of our wooden book shelves are great for day cares, schools and libraries.