Design Your Own Custom Vinyl Window Clings with Full Color Custom Graphics
Create Custom Vinyl Window Clings | Choose Colors, Insert Text, and Upload Graphics
Need Design Assistance?
Learn about our affordable professional graphic design services. Or, if you'd prefer to send us your artwork files, please contact us for upload instructions.
Description
Create Personalized Window Clings with Our Designer Tool!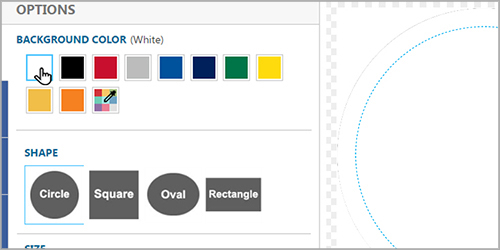 1: SELECT SIZE & COLOR
On the OPTIONS tab:
BACKGROUND COLOR: Click on a color square to fill the background with a solid color, or please specify that a transparent background is needed within the order note section tab.
ADVANCED PICKER TOOL: Select your own custom color by dragging cursor or entering HEX values.
SIZE: Choose your desired shape & size combination.
Your design will remain in place if a new size or shape is selected.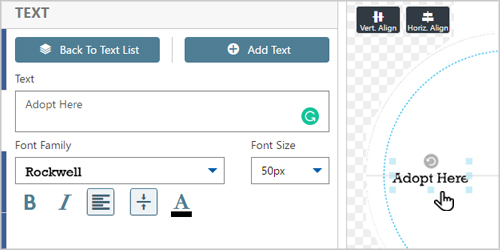 2: ADD & EDIT TEXT
On the TEXT tab:
Select ADD TEXT to create a new text box.
Replace "Add Text Here" with personalized message.
Click FONT FAMILY drop down menu to choose a text style.
Choose a FONT SIZE from the drop down list.
Additional options include BOLD, COLOR, and HORIZONTAL or VERTICAL alignment.
Select BACK TO TEXT LIST to edit existing text boxes.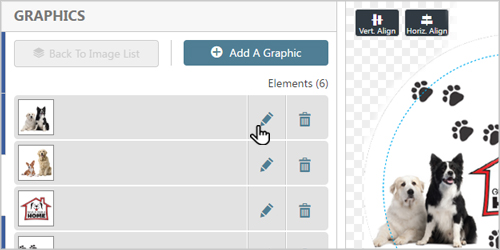 3: UPLOAD CUSTOM GRAPHICS
On the GRAPHICS tab:
Select ADD A GRAPHIC to create a placeholder image.
Click UPLOAD PHOTOS to browse your computer for images of your choice.
We recommend using high resolution graphics in JPG, PNG, AI, EPS or PDF format.
Select BACK TO EDIT to adjust size and placement of images.
Artwork Placement Details
Blue dashed lines on the Designer canvas indicate SAFETY lines. Keep all important text and graphics inside this area.
Guidelines will not print on the actual decal.
If a file is too small to meet minimum print requirements, a red outline will surround the graphic.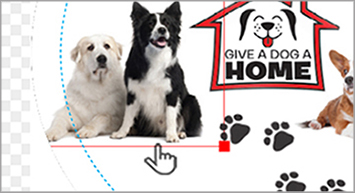 ---
What are Branded Static Window Decals?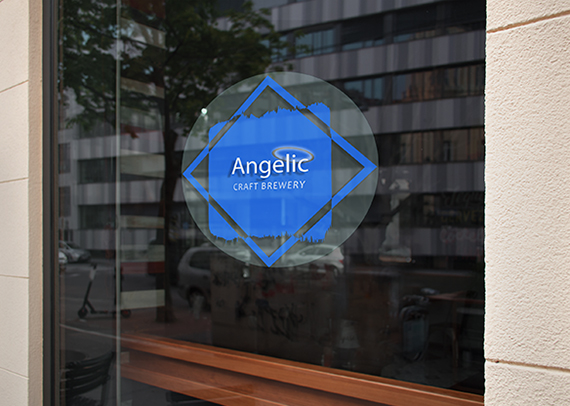 Custom vinyl window clings place your message directly in the customer's line of sight. These versatile signs work well on storefront windows, glass or mirrored doors, and most non-porous metal surfaces. The adhesive-free installation allows for easy removal with no residue left behind.
At Displays2go, we use premium quality translucent vinyl film to craft our custom window clings. This non-adhesive material is printed edge-to-edge with your choice of colors. Areas of the background with no color or artwork can be left clear and unprinted for a modern edgeless look.
Incorporate bright, vibrant colors and high-resolution graphics into your vinyl window cling designs for attention-grabbing results. Our full color UV digital printing process uses fade-resistant inks that dry quickly under ultraviolet lights to preserve artwork details.
---
Size and Shape Availability
Our custom vinyl window clings are available in three popular shapes and four size options:
12" x 12" Circle
12" x 12" Square
22" x 28" Rectangle
24" x 24" Circle
24" x 24" Square
24" x 36" Rectangle
How to Choose the Right Decal Size
When selecting a shape and size for your static window cling, keep in mind both the available surface space and the distance from which viewers will approach the sign.
Place smaller-sized, 12" x 12" or 24" x 24" decals at eye-level to communicate business hours, or to post warnings such as "no smoking" or "employees only."
Choose a larger, 22" x 28" or 24" x 36" poster-sized vinyl cling to create eye-catching storefront promotional advertising that won't leave any sticky residue when removed.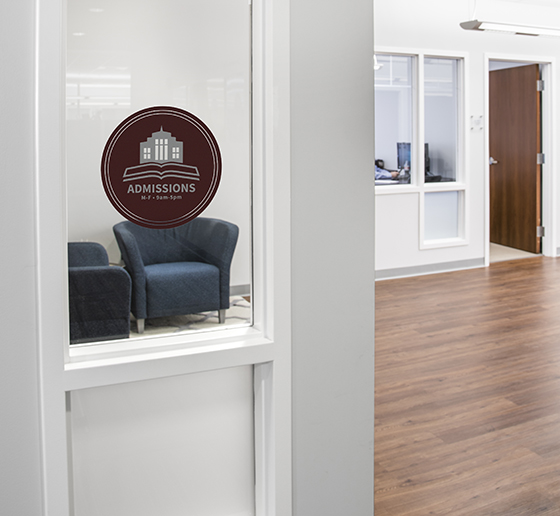 ---
How to Install or Remove Static Window Clings
Follow these steps to apply and reposition vinyl decals:
Start by cleaning your glass or other non-porous smooth surface.
Wet the chosen area with water and dish soap.
Peel the graphic off its backing paper and place it on the surface.
Use our brayer and scraper accessory kit to remove any bubbles.
Have two people available for easier application of larger-sized clings.
To remove, slide a scraper tool under the edge of the decal and gently lift from one side.
Please note: These vinyl clings work on clean, flat glass, and are not suitable for car windows.
---
Where to Use Window Clings
Customized vinyl film decals are an affordable choice for temporary window advertising. Use these high visibility static cling signs for communication on glass doors, windows, and more:
Retail and Department Store Sales
Wayfinding Directions at Colleges and Universities
Artist Information at Museums and Art Galleries
Café and Coffee Shop Hours of Operation
Doctors' Offices Information and Instructions
Restaurant Logos and Seasonal Promotions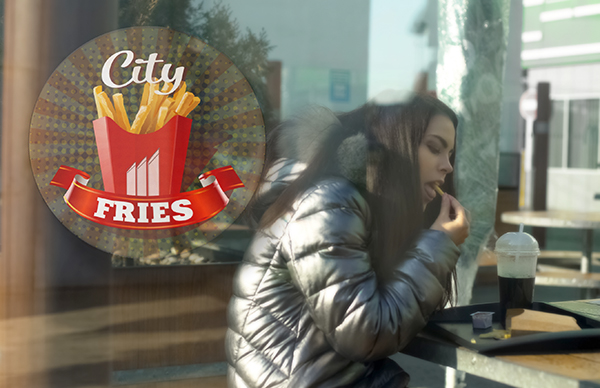 ---
Product Resources & Downloads
Filename
: Window Clings Illustrator Templates.zip (1.73 MB)
Filename
: Window Clings Photoshop Templates.zip (24.11 MB)