Hanging Banners with Grommets in Heavy Duty 13oz Vinyl w/ Full Color Custom Printing
Create Custom Vinyl Hanging Banners | Choose Colors, Insert Text, and Upload Graphics
Need Design Assistance?
Learn about our affordable professional graphic design services. Or, if you'd prefer to send us your artwork files, please contact us for upload instructions.
Description
Create Your Banner in Seconds with our Designer Tool!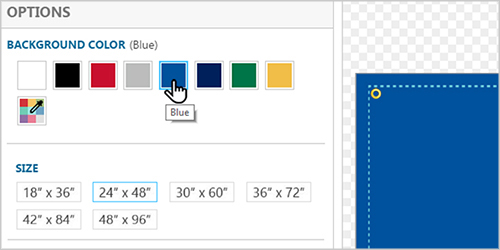 1: SELECT SIZE & COLOR
On the OPTIONS tab:
BACKGROUND COLOR: Click on a color square to fill your banner background with a solid color.
ADVANCED PICKER TOOL: Select to choose your own custom color by dragging cursor or entering HEX values.
SIZE: Pick from a total of 6 size options ranging from 18" x 36" to 48" x 96" and everything in between.
ORIENTATION: Choose from Landscape or Portrait layouts with the click of a button!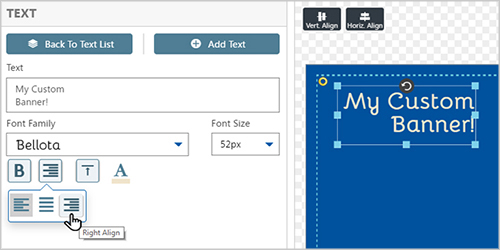 2: ADD & EDIT TEXT
On the TEXT tab:
Select ADD TEXT to create new text box.
Replace "Add Text Here" with personalized message.
Click FONT FAMILY drop own menu to choose from 18 unique styles.
Choose FONT SIZES between 14px and 128px for small and large text.
Additional options include BOLD, COLOR, and HORIZONTAL or VERTICAL alignment.
Select BACK TO TEXT LIST to edit existing text boxes.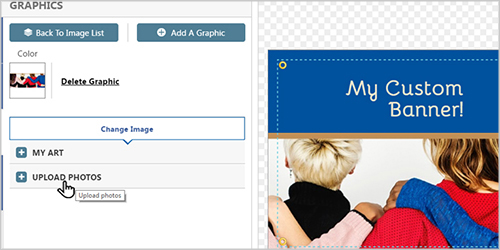 3: UPLOAD CUSTOM GRAPHICS
On the GRAPHICS tab:
Select on ADD A GRAPHIC to create placeholder image.
Click UPLOAD PHOTOS to browse your computer for personalized images of your choice.
We recommend using high resolution graphics in JPG, PNG, AI, EPS or PDF format.
Select BACK TO EDIT to adjust size, placement, and rotation of images.
Artwork Placement Details
A blue dotted line in the Designer canvas indicates the folded edge of each banner.
The hem extends out 1" from the listed banner size on every side.
Any text or images outside of this dotted line will be folded over to the back.
Placement of grommets is shown with gold circles.
Any design elements placed under the grommets will not be visible on the printed banner.
The hem and grommet placement guides will not print on the actual banner. Learn more about our hem and grommets.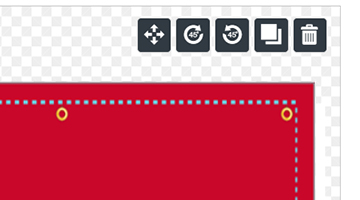 ---
Versatile Indoor or Outdoor Banner Displays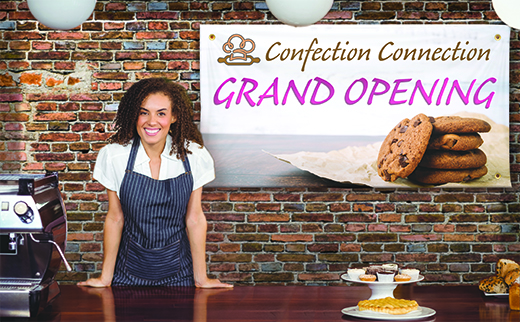 Our custom vinyl hanging banners are made from premium quality 13oz polyester material. These heavy-duty flexible signs are durable enough to be used indoors or out. Each banner is custom printed with a digital process to create beautiful, vibrant colors and photographic quality images. Upload your graphics and logo in our Designer tool to create personalized large format signage that is economical and easy to use.
All of our custom vinyl hanging banners include brass grommets and secure welded hems for a professional quality look. Displays2go provides printing and finishing services at our own modern U.S.A. based manufacturing facilities, where we take pride in crafting the highest quality custom printed signage.
Marketing banners can be designed in horizontal or vertical orientation to accommodate various applications, such as hanging from a retail shop ceiling or an outdoor wall. Accessories for installation, transport and storage as well as expert design assistance are available to help you create a truly impactful advertising presentation.
---
What are some common display banner sizes?
Our vinyl hanging banners are available in several popular sizes, from 3ft up to 8ft long. Each size can be customized in the Designer tool for hanging in either landscape (horizontal) or portrait (vertical) orientation.
Create smaller banners to hang from overhead beams, while larger units can be hung in a storefront or on a wall or fence to attract the attention of passersby.
36"w x 18"h
48"w x 24"h
60"w x 30"h
72"w x 36"h
84"w x 42"h
96"w x 48"h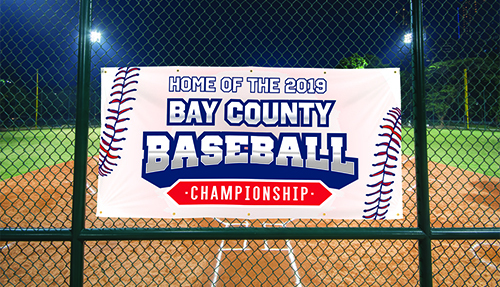 ---
Where are personalized vinyl signs and banners used?
Use vinyl banners anywhere you need large, temporary signage that's durable but easy to install and remove. This indoor/outdoor custom printed signage is a quick and affordable solution to many branding challenges:
Want your booth to stand out at a crowded arts fair? Customize an 8ft banner with large-scale product images and hang it from the side of your tent.
Mount a 6ft banner on the front of your trade show folding table to quickly transform a basic booth with your logo and message.
Let prospective employees know about job openings with a 3' wide outdoor banner customized with your company logo and "Now Hiring" message.
Featuring a pro golfer at your charity event before a big golf tournament? Use a large vertical photographic-quality banner to create a buzz.
Announce the Grand Opening of your new boutique or shop with a vertical hanging banner.
Draw attention to your Flea Market or Church Bazaar by hanging a large 7ft wide by 3.5ft high banner on a fence.
What are grommets for banners?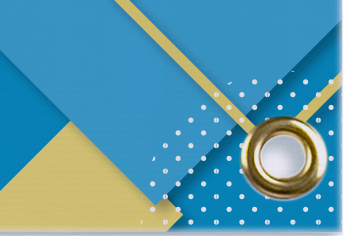 Grommets are rings used to create reinforced holes in many types of indoor and outdoor signage. Our vinyl hanging banners come with durable and attractive brass grommets. Brass metal grommets are ideal for indoor or outdoor applications due to their strength and non-abrasive finish.
Grommets are securely inserted into all 4 corners of hanging signs and about every 2 feet along each side, depending upon the overall banner size. Our standard 3/8" grommets work well for most any hanging methods and won't distract from your design.
What is a welded hem?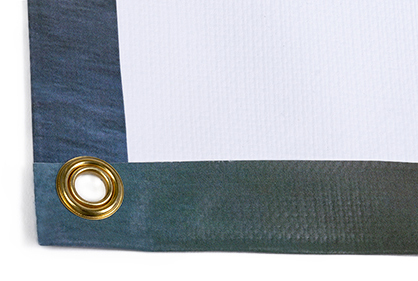 Welded hems are used to create smooth, clean edges on vinyl banners. 1-inch of printed material is folded over from front to back and heat-sealed prior to grommet placement.
Our custom hanging banners include welded hems on all 4 sides. These hems create a professional finish while strengthening the banner edges and ensuring secure grommet installation.
---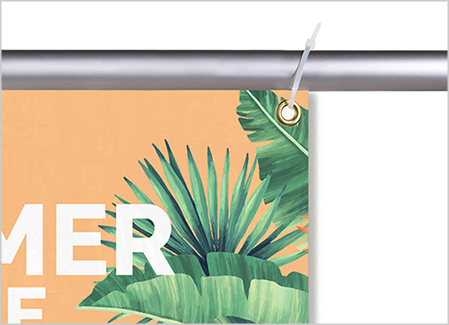 How to mount a banner with grommets
Use our 11"-long locking zip ties to secure a banner to a fence or pole. These plastic cable ties are small but strong, and when placed through the metal grommets they are nearly invisible.
If a strong but adjustable mounting method is desired, another option is sturdy braided nylon rope to hang a banner from a ceiling or wall hook.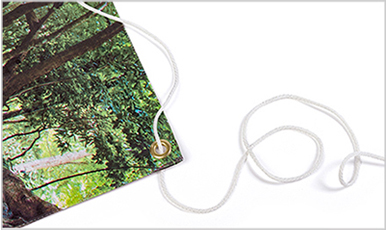 Where can vinyl banners be mounted?
Chain-link fences
Metal outdoor posts
Inside arches and doorways
Trade show backdrop poles
Overhead staging at festivals
Our hanging banners are printed on one-side of the opaque white vinyl, so if a double-sided sign is desired, hang two signs back-to-back to create an advertisement that can be seen from either direction. Large department stores like to hang these 2-sided units in vertical orientation to direct shoppers to a specific location or sale.
---
How are custom vinyl banner signs printed?
These full color banners are digitally printed at a high resolution with 4-color, eco-solvent inks.
The ink penetrates the material for permanence, eliminating the need for over-laminating.
The back of the banner is unprinted and remains an opaque white color.
This printing process, together with our high quality anti-smudge vinyl material creates vibrant colors and images.
This process makes it possible to display indoors or outdoors through any season.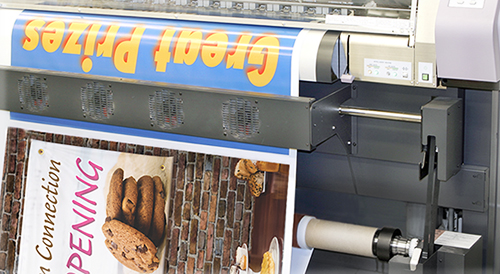 ---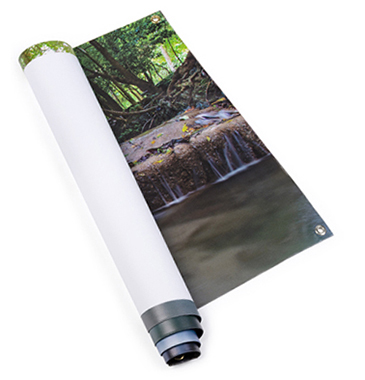 How do you clean and store a vinyl banner?
Clean the printed sign with warm water, a mild hand soap, and soft sponge.
Avoid placing vinyl banners in direct sunlight, in areas of extreme heat such as a car trunk or storage facility over prolonged periods. Loosely roll your sign and place in a cool dry place when not in use.
Flexible vinyl signs can be stored and transported safely in our sturdy portable cases. Carry banners to trade shows, craft fairs, or employment events in a tube container to keep them clean and dry.
---
CALIFORNIA RESIDENTS

WARNING: This product can expose you to Chromium, which is known to the State of California to cause Cancer, birth defects or other reproductive harm. For more information go to www.p65warnings.ca.gov.
Product Resources & Downloads
Filename
: vban_optional_artwork_templates.zip (13.73 MB)