Design Your Own Slip-Resistant Commercial Floor Decals w/ Full Color Custom Graphics
Custom Printed Floor Stickers - Durable Non-Slip Vinyl Decals for Indoor and Outdoor Use
Need Design Assistance?
Learn about our affordable professional graphic design services. Or, if you'd prefer to send us your artwork files, please contact us for upload instructions.
Description
Creating Your Decal is Simple with Our Designer Tool!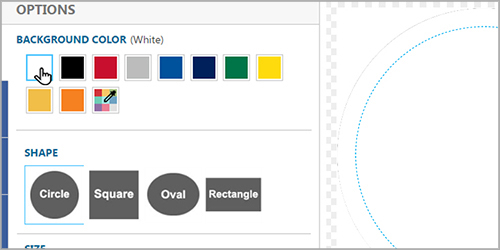 1: SELECT SIZE & COLOR
On the OPTIONS tab:
BACKGROUND COLOR: Click on a color square to fill the background with a solid color.
ADVANCED PICKER TOOL: Select to choose your own custom color by dragging cursor or entering HEX values.
SIZE: Pick from a total of 12 size & shape combinations.
Your design will remain in place if a new decal size is selected.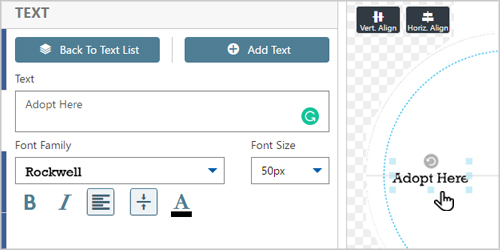 2: ADD & EDIT TEXT
On the TEXT tab:
Select ADD TEXT to create a new text box.
Replace "Add Text Here" with your personalized message.
Click FONT FAMILY drop own menu to choose from 19 unique styles.
Choose FONT SIZES between 12px and 128px for small and large text.
Additional options include BOLD, ITALICS, COLOR, and HORIZONTAL or VERTICAL alignment.
Select BACK TO TEXT LIST to edit existing text boxes.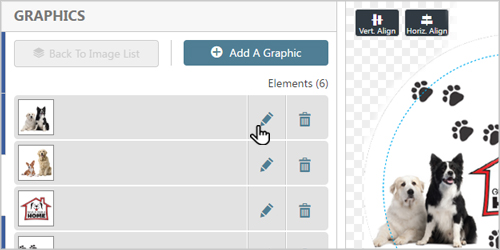 3: UPLOAD CUSTOM GRAPHICS
On the GRAPHICS tab:
Select ADD A GRAPHIC to create a placeholder image.
Click UPLOAD PHOTOS to browse your computer for personalized images of your choice.
We recommend using high resolution graphics in JPG, PNG, AI, EPS or PDF format.
Select BACK TO EDIT to adjust size and placement of images.
Artwork Placement Details
Blue dashed lines on the Designer canvas indicate SAFETY lines. Keep all important text and graphics inside this area.
Guidelines will not print on the actual decal.
If a file is too small to meet minimum print requirements, a red outline will surround the graphic.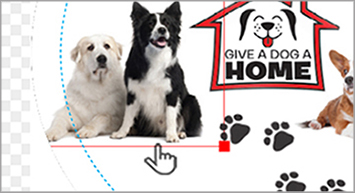 ---
What are Custom Printed Floor Stickers?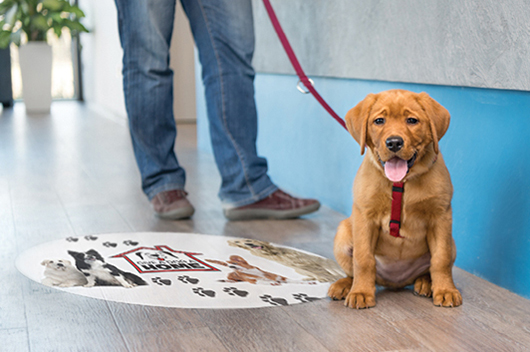 Floor graphics are much more than your average sticker! These durable vinyl decals provide a simple and economical way to attract and inform customers in high traffic areas.
Safely apply our indoor/outdoor removable floor stickers to multiple substrates, including carpet, wood, and tile. These semi-permanent decals can feature any custom artwork, such as wayfinding signage or an advertising message, making them ideal for promoting brand identity.
Our floor stickers are designed to withstand up to 3 months of foot traffic, making them ideal for use in busy environments such as trade shows and museums.
Quantity price breaks are available!
Enter your desired quantity in the shopping cart to see pricing,
or contact us for more info.
---
What Indoor and Outdoor Surfaces Do These Decals Cling To?
These non-slip stickers can be safely used on multiple substrates including:
Tile
Laminate
Stone
Sealed Concrete
Glass
Metal
Painted Floors
Low-Pile Carpet
Sealed Wood
Foam & Rubber Tiles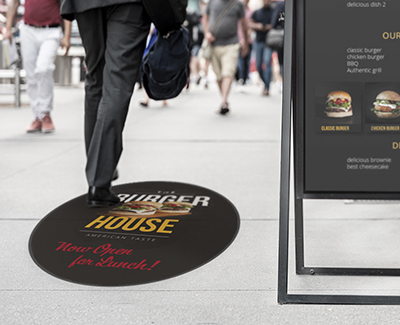 ---
Where to Use a Custom Floor Decal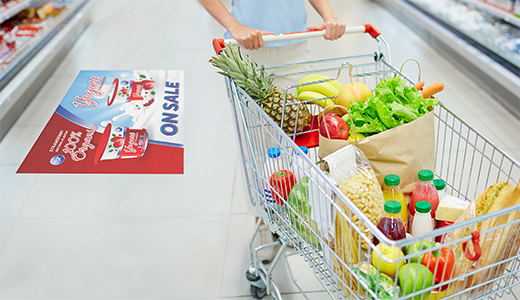 Customized flooring graphics are a simple, versatile solution for building brand awareness in businesses and at promotional events.
Use temporary floor stickers for:
Retail shops
Trade show booths
Grocery stores
Restaurants and cafes
Amusement parks
Seasonal promotions
Anniversary parties
Birthday celebrations
School graduations
---
Are Floor Stickers Durable?
Each commercial floor decal can withstand up to 3 months of foot traffic, perfect for use in retail, trade show, and other busy environments.
Customers and workers will be walking on these graphics, not just looking at them, so quality fabrication is important. The slip-resistant textured surface improves safety and ensures that graphics remain visible and undamaged for the longest possible time.
The back of each sticker is completely covered with adhesive for a secure grip. Wash the decal surface with a mop and standard cleaning products if needed.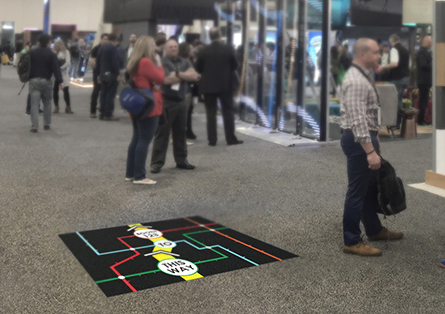 ---
Floor Sticker Options with Stock Graphics
Decals with stock graphics are also available, and feature the same high-quality materials and printing as our custom graphics.
---
How Are Floor Stickers Printed?
Full-color graphics are professionally UV printed on the decal at our USA-based facilities. This digital print process ensures high-quality, long-lasting images and vibrant colors. The flexible 22mm thick vinyl can be rolled up for transport and features a coated paper lining to cover the adhesive backing.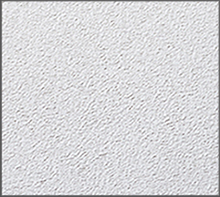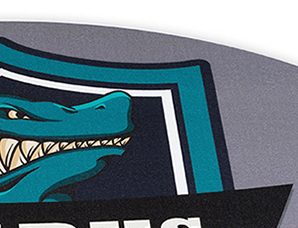 ---
How to Install and Remove Floor Decals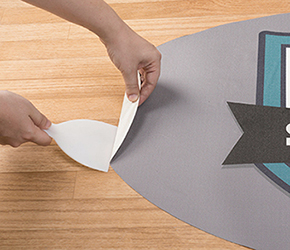 Each print is essentially a large sticker with an adhesive backer
that will stick to a variety of flooring types.
Peel off the paper backing and apply to the chosen surface, starting from the center and smoothing outward to the edges.
Our optional brayer & scraper kit makes it easier to apply and remove the decals. Use the brayer to squeegee any bubbles to create a smooth look. When it's time to remove the graphics, use the scraper to help peel the vinyl from the floor.
Watch our installation video step-by-step instructions and tips.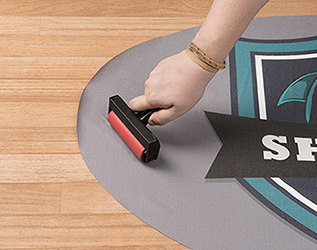 ---
Product Resources & Downloads
Filename
: Floor_Decals_Illustrator_Templates.zip (6.19 MB)