Memo Clip Holders | Decorative and Practical Designs for Retail & Grocery
Looking for innovative promotional equipment that doesn't cost a fortune? A memo clip is a tool that is often used in retail settings and restaurants to display sales and fresh merchandise, as well as appetizer or drink menus. Cafés, bakeries, and sandwich shops typically find that placing a card holder with a price tag next to clearance items helps keep an orderly shop. In addition, the memo clip is exceptionally easy to update. Simply unclip or slide out the old paper sign or picture and drop in an updated one. The memo clip, sometimes called a custom paper holder, also holds photos on a desk at the office or presents names and numbers on a table at special occasions. Because there are so many applications, several styles are available. A memo clip can be purchased as a clip-on, basic, or decorative holder. Finding the most suitable option is simple with the extensive online catalog. Displays2Go.com sells quality memo clips at wholesale prices. Exceptional value makes it so all of our customers will be able to locate the models they need.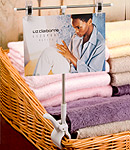 What are the features of each type of card holder?
Clip-on holders generally have a commercial or retail appearance and are designed to focus attention on the paper or card stock signs rather than the units themselves. These models are manufactured from plastic and metal, so they easily attach to the edges of baskets, tables, shelves, and other existing promotional fixtures. Some choices come with telescoping poles that raise signage up for a prominent display. Other styles are outfitted with ball joints that allow promotional signs to be rotated a 360°.
A basic memo clip is one of the most economical ways to go. These usually have either an alligator clamp or a paper coil. There are various heights available, and most come with either silver or black finishes. The base styles vary with each type, as well. Some feature round supports while others have cubic bases. Both coils and alligator clasps are effective for holding paper signs, and some of the selections have more than one on the same assembly. These configuration allow users to display several messages, photos, or reminders at one time.
The decorative styles have ornamental decorations, which are ideal for parties or more casual purposes. These ornate options have the same clipping mechanisms as the basic choices, yet they are adorned with shapes, like stars, birds, hearts, and more. The bases of these offerings are more elaborate than basic models. Many have colored resin, acrylic, or metal bases, which gives them a fun-loving look. Some even hold three messages simultaneously, making them sensible supplies as well as fashionable accents.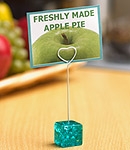 Where is a memo clip commonly used?
Retail environments are fantastic places for clip-on displays because they show promotional sale prices or in-store offers. Cheap advertising tools are difficult to come by, which is why these have become so popular among commercial establishments.
Restaurants, eateries, and barrooms choose more decorative displays to place atop tables. Promoting beverage specials and specialty menu items right where the customers sit is a very effective way to boost sales and profits.
The wholesale display for photos makes a thoughtful favor or gift for events, like bridal showers, Bar Mitzvahs, and birthday celebrations. Hand out the displays with custom pictures of the host or attendees to make the memories last long after the get-together.
Receptions and other large events utilize the card displays to enumerate tables or present name cards. This process makes it easier for guests to navigate to their seats. The holders are also seen at corporate outings and company banquets.
Residences and personal offices are other locations that are optimal for decorative wholesale models. Highlight photos on a desk or shelf and share them with company and family members.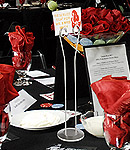 It is not hard to see why the wholesale paper fixture for photos has recently dominated the display market. The easy-to-use promotional units are ideal for informing the public or customers on the fly. They use passive advertising techniques to make sure people have the information they need. Most importantly, though, is the fact that the displays can be updated with such little effort. Specially-designed coils, clamps, and clasps streamline promotional campaigns and allow for custom messages to be created in no time at all. Users that are not operating professionally can also benefit from these selections. Organize a desk or an entire party with one simple custom fixture. Others impress their guests with a holder that fits custom photos when they give it as a favor following parties. With so many features, layouts, colors, and sizes, customers know where to buy quality wholesale displays.
Signage or card holders from Displays2Go are made from acrylic, plastic, and metal materials to last in any environment. They are also creatively designed to attract the eye in any application. Add style and panache to your business atmosphere with a sign holder that has an alligator clamp or coil for cards. In any case, the quality of our available displays is only surpassed by our remarkable customer service. If you have questions or concerns regarding your order, simply call our client support department at 1-800-572-2194. You can also use the live chat feature while online. Click on the icon on any one of the web page to begin an instant messaging conversation with one of our representatives. The office is open Monday through Thursday from 8:30 a.m. to 6:30 p.m. and Friday from 8:30 a.m. to 5:30 p.m. If our operating hours do not work for your schedule, just send an E-mail. We will respond as quickly as possible with the information you need. Displays2Go.com has been designing, manufacturing, and distributing POP displays since 1974. With so much experience, the company is able to offer more than 7,000 unique items in many designs. Several on-site warehouses allow for same-day shipping when in-stock orders are placed by 3PM EST, Monday through Friday. Search the live inventory catalog and save with wholesale price on your favorite card and picture holder displays, as well as other professional fixtures.