Pallet Sign Holders and Stands for Case Stack Merchandising
Telescoping Sign Stands Display Pricing Up High for All to See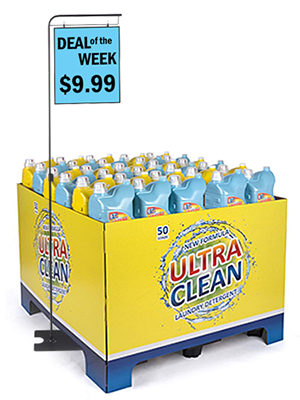 Large grocery stores and warehouse clubs save time and money by bulk merchandising on pallets. Sounds simple enough, but how do you attach/display pricing without any shelves? Pallet sign holders solve this problem with minimal effort. Wheeling out big case stacks direct from inventory without having to restock shelving is an attractive prospect for most stores. Once the platforms are situated, placing pallet sign holders next to them is simplicity, defined. Thanks to their flat bases, the stands slide underneath the stack without obstructing passersby. Use pallet sign holders to display pricing, promotional call-outs, or seasonal sales adverts. More importantly, their tall designs work at eye level to point shoppers to your special deals.
Why use display stands for merchandise out on the sales floor?
Pallet sign holders are height-adjustable, allowing you to raise or lower your message for perfect placement.
The base and telescoping poles are made of steel for excellent durability. We offer these sign holders with either plastic frames or horizontal bars with small clips for hanging signage.
Offered in many signage sizes, choose the sign stand that works best for your particular application. The holders are also double-sided, so customers will be able to see pricing and/or messages whether they're coming or going.
Material handling without the need to physically restock store shelves is exemplified by using pallets. This ideal display solution lets retailers pick and choose the perfect selling spot — unhindered by shelving. Whether placed inside the main entrance, in front of aisles, or right next to the checkout line, selling merchandise on these temporary platforms makes perfect business sense. Looking for more supermarket fixture ideas? Displays for grocery stores, like gondolas, rolling racks, and bulk bins can accommodate almost any type of goods or produce!