Red Carpet Backdrops, Runners, and Stanchions for Special Events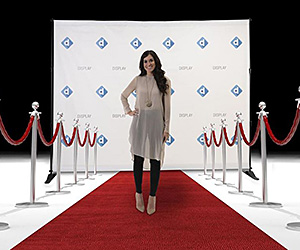 Roll Out the Red Carpet with High Quality Photographic Backdrops!
When you need to impress both the guests and the sponsors, event coordinators reach for step & repeat banner displays. These red carpet backdrops make everyone look their best, which is extremely important during high-profile, publicized occasions. The repetitive pattern adds greater emblem or logo visibility for galas or sponsored events. Red carpet backdrops also afford the perfect photo op when paired with the requisite carpeting and velvet rope stanchions. We offer complete step & repeat packages for convenient one-stop shopping. Create a celebrity-like atmosphere for college graduations, corporate functions, or premieres of all kinds with red carpet backdrops!
Which display fixtures pull off the perfect "Hollywood" event?
Red carpet backdrops create the necessary focal point for viewers as well as photographers. Having a custom printed graphic advertising the sponsor, fundraiser, or show immediately puts everything into context. No matter who is photographed in front of the backdrop, viewers will know what the event is for. You can send us your step & repeat artwork or choose to use large photographic imagery for us to print, whichever is better suited for the occasion. The backdrops disassemble easily and come with their own carrying bag for convenience.
It wouldn't be called a "red carpet event" without said carpeting. Our rolled runners are 5 feet wide and 10 feet long. We offer them in a couple of options that cover 20 or 40 linear feet, respectively.
Crowd control for glittering and fancy occasions requires attractive elegance. Chrome and brass stanchions that come with red velvet ropes help tie the whole scene together. Placing rows of posts on either side of the carpet protects the space needed by the attendees. Stanchions also help usher the participants to the inevitable endpoint — the photographic backdrop!
You may also be interested in additional accessories that can add or enhance your backdrop presentation. LED illuminated seating provides cool and colorful ambiance to any event. Their soft, glowing light is a real head turner! Mobile device charging tables offer your patrons a quick boost to their phones while they're on-the-go. It's a convenient service you can offer, free of charge.
Step and repeat walls are critical to media outlets because they perform the task of advertising the event, sponsor(s), or both. Thanks to the repetitive pattern, logos or emblems are always visible no matter where the photograph is taken. The photos are then shared on various social platforms, creating exponential impressions. In addition to the publicity garnered at award shows and galas, these press walls are also used in other ways, such as in weddings or at grand openings. Similar to the vibrant graphics used inside trade show booths, these custom-printed banners offer much-needed brand awareness for marketing applications.