All Customer Reviews For REA1AFRAME
---
okay for the price
Instructions were not in the box. When I did get instructions from the company I was able to put together and it looks like will remain assembled. However I am concerned that it won't hold up outdoors on the sidewalk which was the reason for purchase. I will probably just use it in the hallway of the mini mall that I am located in.
---
Unstable product
This product didn't meet my expectations. It was not suitable for outdoors during various weather conditions.
---
---
Purchasing
This product will meet our requirements; it would not be stable enough for outside.
---
---
Pretty good, but needs a tweak
This frame is a nice compromise of price vs. value. The biggest drawback to it is that the channels for the signs need a stop at the bottom so they don't fall out when the entire frame is moved. Assembly needs four hands, and you have to have two pieces of sign board (front and back) or it won't work.
---
Poorly Designed Product
I cannot find the poster board that would fit the frame. I thought it would be a standard size, but apparently not. So then I tried to use another size poster board. The frame is so awkward and flimsy that the poster board would not even stay in the tracks. It falls apart. So even if I had the correct poster board size, it would still fall apart. This product is a waste of time and money. It's poorly designed and unstable. I would not recommend it to anyone.
---
Awesome for Open House Signs!
Very lightweight and compact! Great deal when shipping to Hawaii. I used 18x24 sign panels to make Open House signs. Great solution! Make sure to use sand bags to hold these frames down in windy weather. Highly recommend.
---
---
Arrived quickly & product as expected
The a-frame was exactly what I was expecting based on having read the description and reviews, and served my purposes perfectly. I was also pleasantly surprised to discover you can actually fit 20x30 boards in here, as well. Shipped quickly!
---
Exactly what was described, and worked out perfectly.
This is a lightweight frame used to hold lightweight corrugated plastic sign boards. Lightweight is exactly what I needed. It goes together and breaks back down quickly. I did tweak it a bit to keep the boards from sliding down the channel and falling out of the bottom while carrying it. I used black electrical tape to close the channel at the bottom. If you plan to use it outdoors on windy day, use a weight on the bottom. As stated above numerous times, this is a LIGHTWEIGHT frame used to display LIGHTWEIGHT corrugated sign board. The wind can move it, so stake it down if needed.
---
Works Well
This sign works great. I am using it to help promote my clients business of 'Gold Trading ' the staff at Pacific Northwest Gold Buyers all love the sign. Thanks. Website https://pacificnorthwestgoldbuyers.com
---
Cords are too short—only 12.5" wide signs are possible.
The frames SHOULD hold big signs, up to 24"W x 26"H, but the stretch cords that hold the frames together & reinforce it diagonally, ARE MUCH TOO SHORT. 12.5" IS THE WIDEST YOUR SIGNS CAN BE, if they're made of inexpensive corrugated plastic board or foam board. The boards will buckle if you use anything wider than 12.5"! The cords are so short that they probably wouldn't even work if you could stretch them to use something stiffer, like thin plywood. Also, these cords would be hard to attach if you have arthritis. I am removing the cords, and will try making longer ones that are each partially stretchy. I will try to post with an update. The photo shows a 12.5" wide box, not a sign, because I didn't want to ruin sign board trying to force the cords to stretch enough.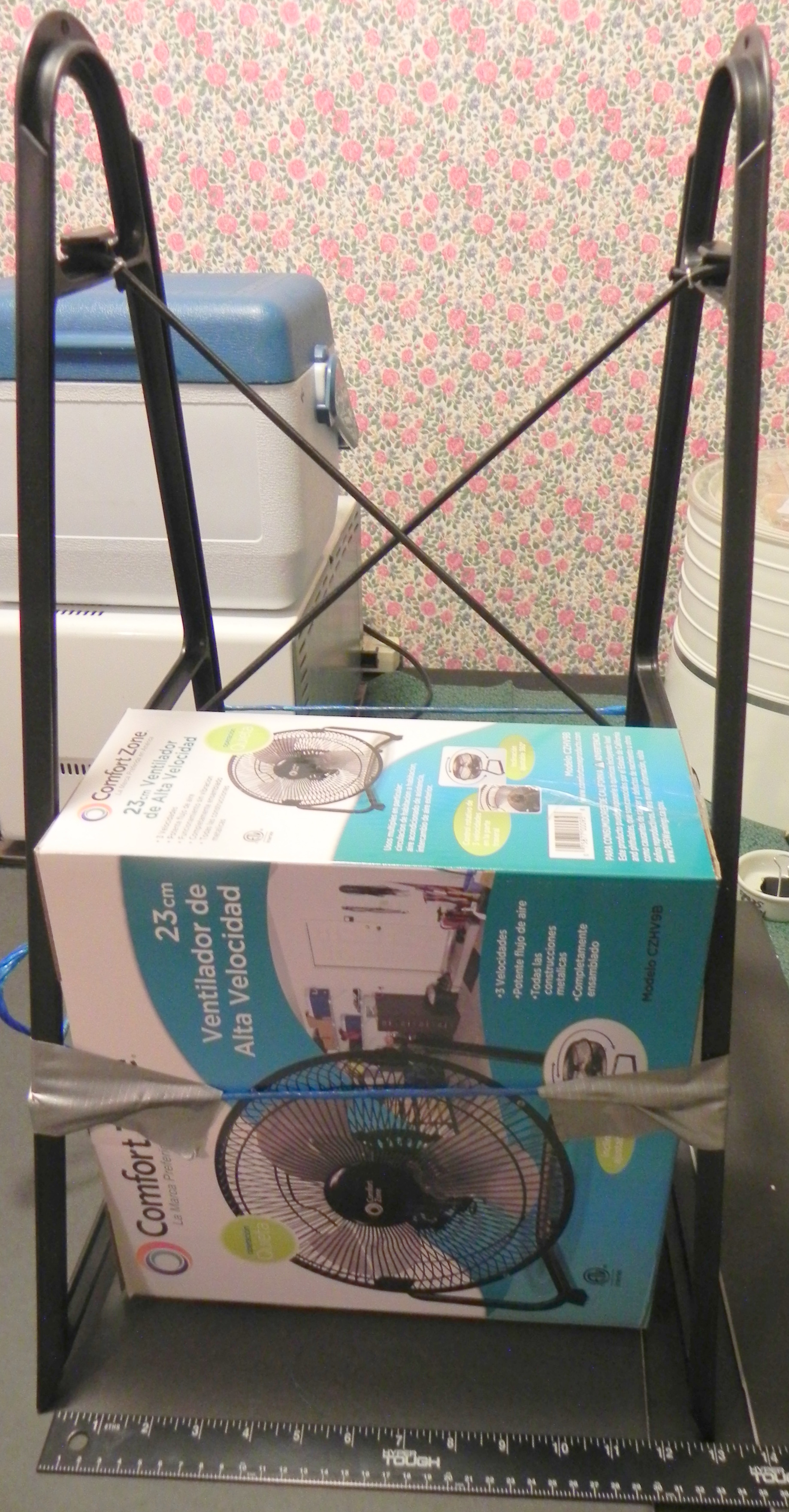 ---