All Customer Reviews For PAN3F3STUP
---
Terrible quality
It's broken and crooked in several places and it's so cheap there's no way I could use this as a display.
---
Beautiful display.
This lightweight display is great for a small business. The display is lightweight and allows you to adjust the shelves to fit your needs.
---
perfect for flexible studio/office shelving!
perfect for use as adjustable/easily-customizable office shelving for my in-progress work/supplies in my ever-changing art studio space. i will be purchasing another display piece for additional supplies & completed works!
---
Dissappointed
Great concept , but poorly executed. The slats in the frame are loose and some actually fell out of place in transit despite the styrofoam packaging. The frame itself is also very flimsy and light, it shifts and goes all wonky even with the shelves in (the shelves themselves are pretty solid). If a customer accidently leans or anything it may topple so have to pay super attention to how products are loaded. I now have to find someone to secure the slats and to sure up the frame itself if possible.
---
retail shelf
Really love the idea of this shelf. Bought it for my pop-up business and wanted something that folded up. It came with a few slats out of place, which I have tried to fix myself but they are stuck in the wrong position. Also i have been trying to call customer service to talk to someone about getting one additional shelf because I think it should have come with 4 instead of 3 but have not been able to get a hold of anyone.
---
Not too bad... with a side of real potential
So I gave this a solid 3, not because its great, but it's a solid "good." I purchased these for craft shows (indoor and outdoor) where I set up a 10x10 tent or have a 8x8-10x10 space. The bad: The wood is super soft and will damage easily. The need a couple of minor repairs (that I can fix). Clearly these were thrown together quickly and there wasn't much in the way of quality control. The good: Lightweight and easy to transport. Also, they are repairable, and the wood should take a coat of paint. (Some primer and oil-based paint will make these more weather-proof and durable.) Adjustable shelves are a big help as well as the fact that they are a pretty respectable size for the price. For a crafter, these are a good investment, especially if you need surface space and want to eliminate tables from your display. BUT be prepared to also put a little elbow-grease into them in order to make them last a while.
---
wooden retail shelving unit w/3 shelves
I bought the same unit years ago and this one is a much sturdier better version of the old one. I was pleasantly surprise by the free and quick shipping. Good company. Will buy again.
---
Wobbly, potential hazard for stores
I love the way this looks, but the slats are not attached in the track and the whole display is very rickety - the whole thing shifts when you touch it and I wouldn't want customers to interact with them for fear of it falling or them getting nervous and moving on. The shelves themselves are very nice.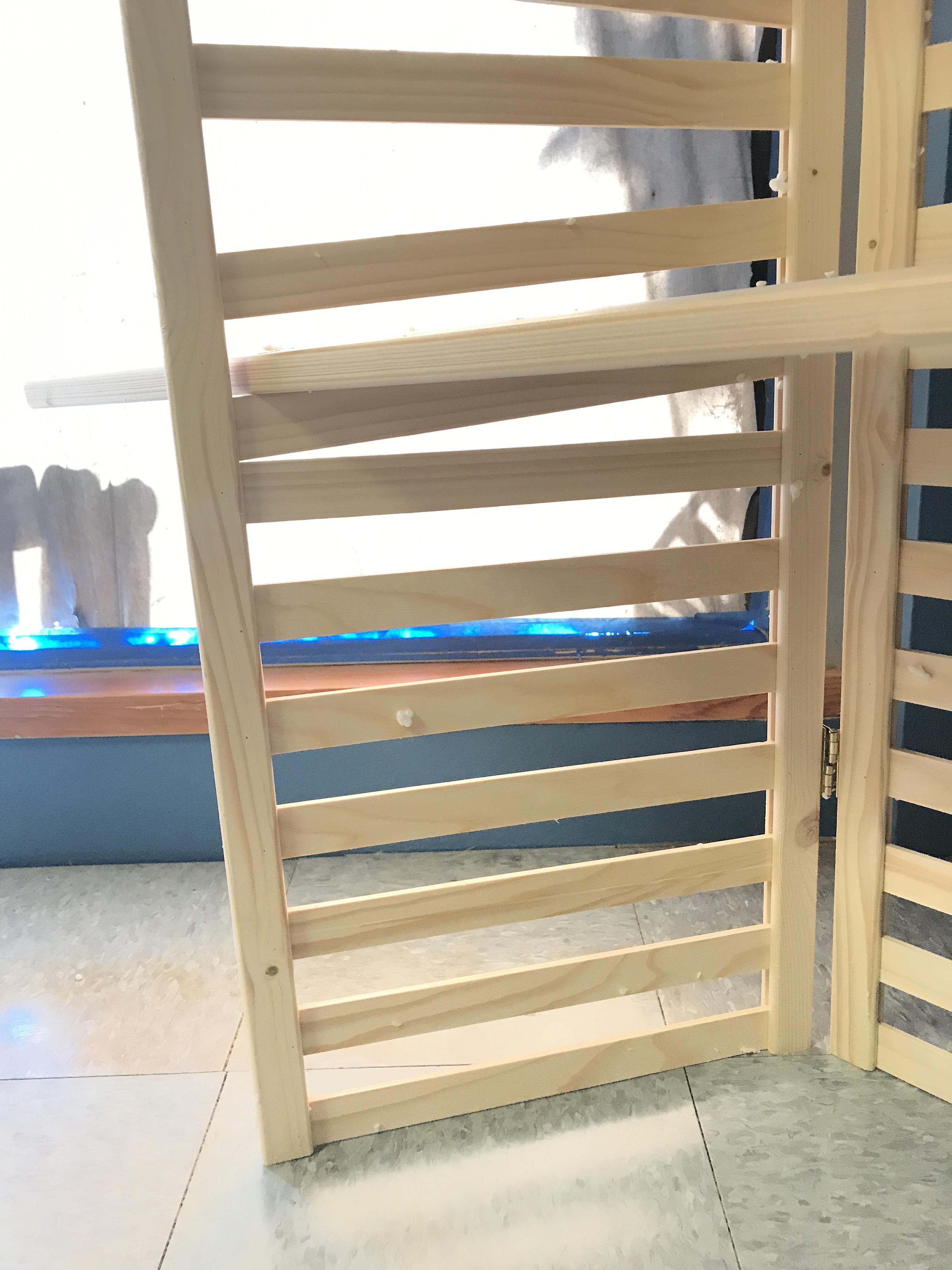 ---
Perfect for my purposes
This display is working perfect for my craft display at a local consignment shop. I was a little worried about the 5 lb weight limit for the shelves, but it is working great.
---
Great but could be better.
It feels a little flimsy but I love the unit for displaying my products at sales & swap meets. It's very easy to take down and to set up. It would be perfect if you would sell individual shelves for the unit also.
---