[MOCKUP] Wall Mounted Sign Holders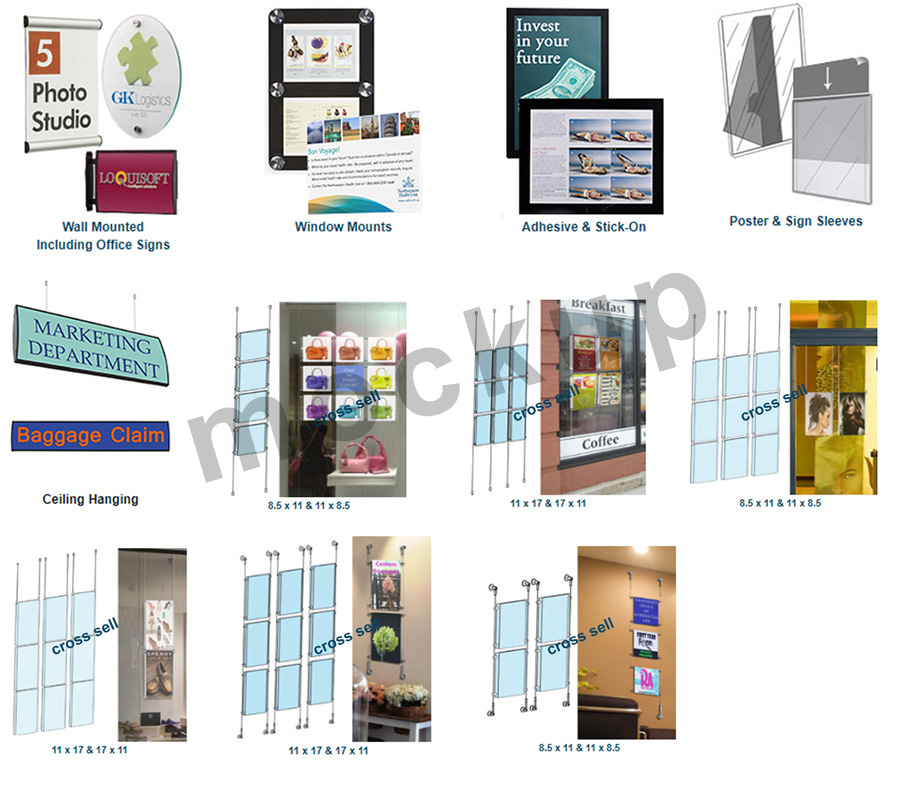 Wall Mounted Graphic Advertisement, Wayfinding, and Sign Holders
Are you looking for a way to share information with your customers in underutilized areas such as hallways, from the ceiling, or windows? Our wall mounted sign holders provide excellent versatility to our customers and allow them to maximize visibility where signage would otherwise be lacking. We offer a variety of options including custom printed sign kits for employee and conference room nameplates or floor numbers, acrylic signage, and multi-panel directories.
Wall-mounted sign holders, such as clear adhesive window displays, put in work before your customers even enter the building by advertising to them on their approach. Position signage on the front door to ensure your guests will see your latest promotions as they enter. Wall-mounted sign holders, including ceiling hangers, do a great job at directing foot traffic and guiding visitors to the correct office, conference room, or cubicle. Use any of the signage fixtures in this category to advertise and promote products or as an effective wayfinding solution in corporate or business offices.
What are the different styles and use cases of these mounting
Mounted sign holders include nameplates, acrylic graphic frames, and directories. Take advantage of custom printed office signage kits with standoffs to add a branded touch to your in-office displays. Use mounted sign holders to display a nameplate beside the door of an executive employee, label male and female bathrooms, or highlight your organization's entrance in a business park. Small and large acrylic frames with standoffs include custom UV printing as well for a more expansive presentation.
Cling or suction cup mounted sign holders displays are great for welcoming customers at business storefronts. Place daily specials or promotional content at the entryways or along office windows to entice passersby to come inside. These options feature suction cups or adhesive dots as well as custom printed graphics options to deliver your business' message more clearly.
Ceiling hanging office signage is a high-visibility option for retail stores, corporate offices, and shopping centers. Overhead sign holders are great for directional displays and assist guests with finding their way between departments or supermarket aisles. Many suspended signage kits include adjustable cable wires, and all include necessary mounting hardware to keep your displays looking sleek and professional.
No matter what style of sign holder you choose, these fixtures will increase both the advertisement potential and directory capabilities in your place of business. Whether you are promoting new products and assisting customers through the aisles or clearly labeling office space, these signage kits will help you maintain a professional appearance. For larger displays, check out our commercial poster frames with metal, plastic, and wooden designs. We offer snap-open, slide-in, swinging door models, and more to suit your presentation needs. Shop Displays2go for all of your retail advertisements and office directory needs!