Facilities, Signage, & Personal Protective Equipment for Mobile Flu Clinics

Equip Your Flu and Vaccine Center with Essential Supplies
Protect yourself and your community this fall and winter from the Flu, cold, and other infectious diseases such as the Coronavirus (COVID-19) by supplying your clinic with the necessary resources to provide timely, organized, and effective care. The Flu, and other respiratory diseases, can cause missed work, hospitalization, and even loss of life, so it is vital to provide the public with the most accessible means of distributing vaccines as possible in order to stop the spread.
Displays2go is committed to assisting businesses from large corporations to mom and pop boutiques to keep their employees and customers safe through peak periods when infection rates are highest. Flu and vaccine clinics should be fairly standardized across various states and we provide the vast majority of fixtures used when organizing satellite, temporary, or off-site vaccination clinics. Take advantage of quality, re-usable site furnishings including custom or pre-printed social distancing signage, outdoor tents, folding tables, and crowd control stanchions.
Four Products Every Outdoor Clinic Must Have
Pop-up Tents for Mobile Medical Clinics
Canopies are a staple for any location be it outside or inside a venue such as a gymnasium, cafeteria, or event hall. Traditionally used as vendor display tents, our canopies are suited for use during temporary events, are compact and easily transported between locations, and pop-up with minimal effort. Choose from a selection of mono-colored or custom printed tent tops to suit your needs, whether you need a simple fixture to get the job done, or a branded experience to showcase product imagery, label locations, or share a specific message
What Kinds of Temporary Event Canopies Do We Offer?
Stock tents with no custom printing feature a flat monochromatic color and are a great choice for companies or event centers that need a universal fixture to accommodate a variety of occasions. These blank booth canopies feature a pop-up design and are set up in minutes to protect employees and patrons from prolonged exposure to the elements while providing a centralized hub to conduct testing, share vaccines, or store supplies.
Custom printed event tents are ideal for businesses with a focused mission, marketing campaign, or companies that want to share a recognizable logo so customers can easily find their way. Use these canopies as a branding tool to let your organization's presence be known between events or to act as a wayfinding solution for patrons looking where to sign up, where to recieve their shot, where to get tested, or where to receive some other form of medical attention.
Domes, Kiosks, and pop-up sales counters are a fantastic place to have a dedicated employee stand and deliver forms, pamphlets, or other educational pieces of literature to your guests. Flu clinics can have their patients stop here first to receive a medical form to fill out, or assess their immediate needs before sending them to the correct line. For your convenience, we also offer stock and custom printed event domes to suit your specific use case.
Whether you are looking to take advantage of a canopy to manage patients outside, or a pop-up dome to act as a mobile reception counter, it is important to have a clear place for your guests to go during their visit. With social distancing concerns at the top of everyone's list, especially in vulnerable areas such as covid testing and flu clinics, any business must pay extra mind to how they seperate, direct, and handle masses of people in public settings in a way that protects both the customer and the employee.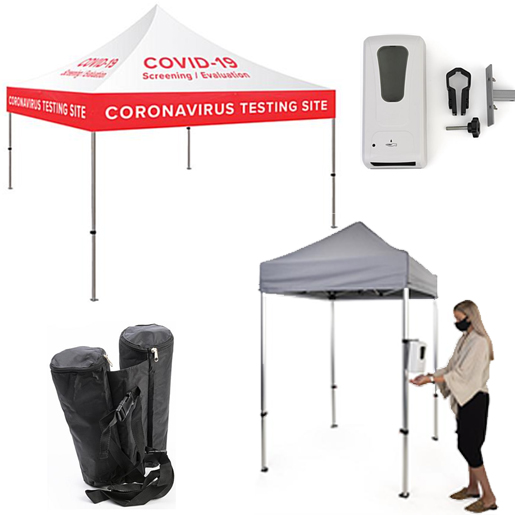 Buy Now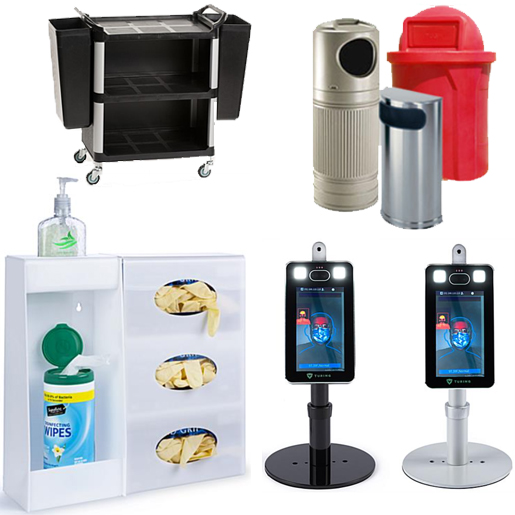 Buy Now
Facilities Equipment Including PPE, Tables, Body Scanners, Bins and more
It's the little things that bring any event, exhibit, or off-site venue together such as functional pop-up tables, trash bins, and even outdoor patio heaters for the colder months. For Flu clinics and COVID testing centers, employees need to be sure that they have all of the fixtures necessary to protect themselves and conduct their job effectively. Providing personal protective equipment dispensers for tools such as face masks, sanitizing packets, and gloves go a long way to ensuring your nurses remain healthy through the season. Additionally, body temperature scanners have become a staple for initial screenings, with many organizations checking a guests temperature before allowing them access to any building.
Which Facilities and Grounds Fixtures are Essential for Flu Clinics this Season?
Sufficient personal protective equipment, and the ability to store and dispense them properly, is one of the foremost concerns of medical staff on-shift. By taking care of your employees first and providing them with ample supplies, they can work with the peace of mind that not only are they safe, but that they can provide safe and effective treatment to the public.
Turing body temperature scanners provide businesses with a quick and simple way to scan each patient on-entry for a fever, not only helping nurses figure out if a new visitor is at-risk, but giving them the information needed to properly direct them to the right tent location. This technology provides essential workers with audio and visual cues that allow them to process more patients and keep the line moving smoothly.
Folding tables are a necessary componant to any outdoor tent set-up. These fixtures not only provide flu clinics with a space to interact with their patients, but room for extra medical supply storage as well. Your pop-up table will most likely be the centerpiece where patients will sit and wait to be given their shot of vaccine, and where nurses will spend the majority of their time working.
Facilities and grounds fixtures are all about providing simple amenities that make your employees' job easier and your guests visit more enjoyable. For instance, patio heaters are a great way to extend the amount of time outdoor vaccine clinics are feasible, especially in warmer climates with mild winters, or even the off spring-like day during colder months. We also provide janitorial and medical carts, which can be used to carry spare supplies or restock between shifts. Commercial trash cans are also of great use for medical waste and to avoid unnecessary contamination.
Hand Sanitizer Dispensers, Refill Jugs, and Custom Signage
Maintaining a sanitary working environment is a shared social responsibility for patrons and employees alike. To avoid contaminating unnecessary surfaces, many businesses have begun to provide hand sanitizer stations in entryways, exhits, and scattered throughout the building. As a best practice, it is wise to sanitize your hands before and after using any publicly accessible fixture such as a grocery cart, door, or countertop. This is no different when it comes to utilizing public services such as flu clinics and covid testing centers.
Providing patients with a clearly marked place to sanitize their hands before entering a line or engaging with your staff helps protect everyone involved and goes a long way toward avoiding the spread of disease, especially at an essential location where people are going to help prevent it. Take advantage of custom printed floor standing automatic hand sanitizers to help share a branded message, deliver promotional information, or share medical insight that may help the cause. We offer jugs to easily refill sanitization stations, ensuring they are always topped off and ready for the next guest.
Our Most Popular Picks
$95.99
Hand Sanitizer Gel, Gallon Jug, Twist-Off Cap, Displays2go Branded, Set of 2 - White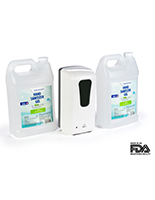 $142.79
Touchless Hand Sanitizer, Wall Mount, 1000 mL Container, 2 1-Gallon Gel Jugs - White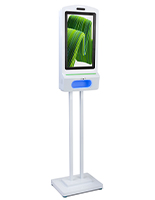 $1,574.99
Touchless Hand Sanitizer Dispenser, 21.5" Screen, Android OS, Floor Standing - White
Adhesive Floor Decals and Line Spacers
Our safety floor stickers are great for both indoor and outdoor use, with most of our top products featuring a vinyl design that can not only endure prolonged exposure to weather, but also be removed and reused between sites. We offer an array of pre-printed messaging featuring popular phrases previously requested by our customers, making it simple to find the right one for you.
What Types of Social Distancing Floor Stickers do we Offer?
"Thank You, Be Well," decals are a great way to bid your patients and customers farewell after you have given them care. Place these stickers at the exit doors of your store, or along the path of a parking lot you have set up a pop-up canopy in to send them off on a good note. With the cold and flu season reaching its peak, and with COVID-19 weighing on most people's minds, a simple message can go a long way toward lightening someone's day and making them feel validated that they took time to become part of the solution at your clinic.
"Please Stand Here," floor stickers offer multi-purpose functionality both indoors and out. Use this signage to manage lines in any area of your business, whether that is to assist your cashier, or to organize queues at the clinic. Simple, thin, and effective, these signs make a clear statement while using little real estate.
"Please Stay in Your Car, Someone Will Assist You Shortly," social distancing floor stickers are fantastic for drive-up COVID testing centers or flu clinics. Many businesses or medical centers are inundated with patients or guests, so, rather than filling waiting rooms with potentially infectious people, they are having patients wait in their car until it is their time to be called.
The graphics on these floor decals range from simple pictures such as arrows or stop signs to full fledged messages, directions, or advisories. Operational floor safety decals fill a variety of roles, both for temporary outdoor events and in-store. A business that utilizes a pack of, "Please Stand Here" stickers in their cash register lines can use the same ones to help manage the queue of their flu clinic or COVID testing center.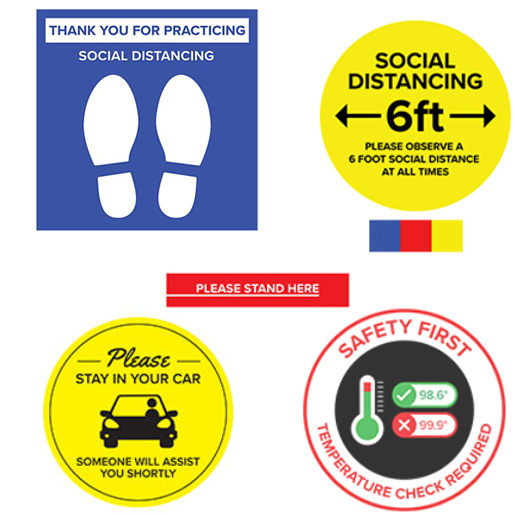 Buy Now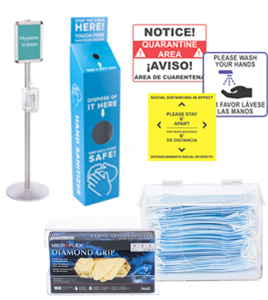 Social Distancing Supplies
Stickers, Signage, and more

View Now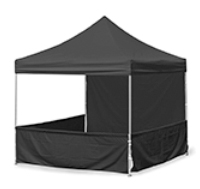 Outdoor pop-up tents are available with stock monochromatic colors or with custom printed graphics. Ideal for temporary events & mobile clinics.
View Products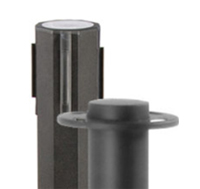 Crowd control stanchions help organize and direct patients during peak servie times while ensuring social disttancing measures are maintained.
Explore Selection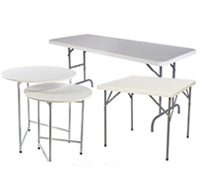 Portable event tables allow flu clinics and testing centers to set up and get to work within minutes with compact, lightweight workstations.
Find Yours