Custom Swooper Flags are Sold with or without Flag Pole Displays
Swooper Flags are Great for Hot Dog Stands, Auto Dealerships & More!
Are you shopping for the largest, most prominent advertising displays for your car dealership or retail store? Swooper flags are an excellent means of promoting advertisements and announcements at any professional location. The auto dealer banners are unique in that they are available with many pedestal options, functional features and quality custom printing choices. These custom swooper flags, or feather banners, are versatile enough to assist with increasing brand recognition, developing a client base and building awareness of specific merchandise. Promotional aids, or feather flags, generally implement brightly colored messages in order to successfully captivate bystanders. The swooper flags offered here are often combined with flag pole hardware, which enables them to be applied as a total advertising solution. In addition, these car banners can be tailored to aim marketing messages at intended audiences. Swooper flag hardware is perhaps most effective when coupled with various custom emblems for very flexible and highly updatable auto dealer promotions. Many businesses put up feather displays in storefronts or entrances to help customers find the exact goods or services needed. Displays2Go.com provides these swooper flags wholesale in several sizes and configurations, so there is an option for every purpose. Our web catalog sells the best flag pole stands at the lowest prices, so log on now!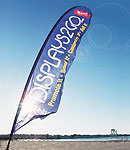 This swooper flag is built for use in a variety of applications, including carnivals, concerts and sporting events. These message banners are also ideal for indoor affairs, like conventions or trade shows. These car flags are engineered to weather fair to moderate outdoor conditions. This swooper flag or auto dealer banner allows for prevalent advertising in the wind, rain or snow with no problems. Many times, gusty winds can cause damage, but these banners are made from premium materials to avert destruction. While some flag pole systems let a car flag get twisted and wrapped around the center support, our banner stands spin with wind gusts. This feature prevents the flag pole from falling down and keeps the swooper flag from becoming entangled. An additional advantage of this ability is that the turning motion itself catches viewers' eyes. With our sturdy swooper flag pole hardware, users can ensure the longest-lasting fixtures. They can also be sure the signage is apparent and easily read when on display. Use only the best swooper flag styles to keep your custom vinyl or digital prints in plain sight. Join the many who have generated high impact messages and watch as your own organization's profits increase!
Why are these swooper flag displays an exceptional alternative for showcasing promotions outdoors?
The auto dealer flags offer simple designs that can be transported to and from events with ease. We also carry sizes large or small enough to work with any merchandising needs.
The feather signs can be assembled and taken down in a matter of minutes. Some models even come equipped with carrying bags, which makes relocation straightforward.
These auto dealer signs incorporate fully-customized, user-submitted imagery that can be targeted for specific presentations or audiences.
Portability is perhaps the most important characteristic of this signage. Having practical and easy to use outside advertisements is indispensible when it comes to setting up noticeable marketing.
These professional stands are equipped with features that keep displayed flying pennants stretched and visible even when there is little to no breeze.
Many models even rotate around the center support with the wind to prevent tipping. This motion is also eye-catching for many bystanders. With these flags, users will be able to advertise in heavier winds.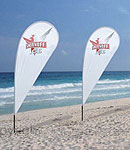 How can a swooper flag or auto dealer banner be customized?
There are two different options for custom printing these quality displays.
For most vinyl choices, 1, 2, 3 & full color graphics are available to generate exact flags for specific presentations.
Other styles make use of digital printing, which is better for involved graphic designs.
In both cases, these feather flag pole stands and car flags feature through-printed signage that can be seen on both sides. It is important to note that users can buy models in which one side will appear to be flipped horizontally, as well as versions that have right-reading backsides.
Digital and vinyl printed options are expertly designed to stand up to normal outdoor settings.
This feather banner for storefront use fascinates prospective customers as they pass. A stock message sign can let onlookers know that your establishment is open. Store pennants are very strong, and the radiant colors turn heads in any environment. This auto dealer display is ideal for publicizing new merchandise or upcoming events. Additionally, the displays can be used throughout multiple areas, as they can be taken down and moved with ease. Choose the most unique fixtures to bring more adaptability to your promotional strategy. Amaze customers with ornate messages that make them want to buy your goods!
The printing options accessible are as individual as our customers, and our company attempts to provide enough information to make the most informed choices. Digital printing offers the most flexibility when developing text and logos for your signage. The prints do not normally require minimum quantity batches, which is a well-liked feature among our shoppers. Because no printer can assure exact colors (as every computer monitor coloration varies), we recommend designing with Pantone® colors to ensure the most accurate representation. Dye sublimation is yet another factor to consider, as this process submerges signs in solution, resulting in effervescent and rugged auto dealer flags. Either option allows for simple or complex layouts, so you have the freedom to develop any kind of presentation. Some companies fancy signs that have basic solid backgrounds with their logos, while other businesses have a preference for more intricate emblems.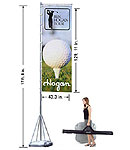 The other technique for printing feather flags is vinyl silk-screening. Heat-transfer vinyl imprinting is obtainable on most of our banners. This signage allows for a choice of 1-color or 2-color printing from nine distinct shades. There are some limitations on designs, so be sure to peruse the vector artwork link for details on the submission process. When working with vinyl colors, think about how the images and text will appear on the actual canvas. Single color printing works well for many advertisements and is sometimes more appealing visually. This print choice is often easier to read than busier digital representations. If your logo has overlapping shapes, then 2-color printing may be the appropriate option for you. Please note that most vinyl printing usually calls for a minimum order of ten units.
Several images may be submitted for these car displays, but extra artwork fees apply. Although certain circumstances do arise, there is typically a $25 artwork setup fee for each extra additional that is submitted. With this preference, customers can have a different image printed on opposing sides of the display (front versus back). Another option is to order five blade banners with one graphic and seven with another graphic. The possibilities for these beach flags are virtually endless, so get the one that is best for sponsoring sports matches, marketing in a retail establishment or any other intended goal and location.
Displays2Go.com the web's foremost custom auto dealer flag manufacturer. Our company sells teardrop, feather, message, car, pop-up and other advertising banners, as well as flag pole hardware. If you have any questions regarding your order, our customer service department is available Monday through Thursday from 8 a.m. to 6:30 p.m. and Friday from 8 a.m. to 5:30 p.m. EST. You can also dial 1-800-572-2194, or while online, take part in a live chat with one of our representatives. If you are not available during regular business hours, send an Email, and we will get back to you as quickly as possible. We maintain several fully-stocked, on-site warehouses that enable us to provide same-day shipping on most merchandise. If your order is in stock and received before 3PM EST, it will ship the same day. Same-day shipping is not accessible for freight-shipped orders or customized items. Order from our enormous selection of car banner and auto dealer advertising displays to successfully promote events, competitions or sales!