Pipe Store Fixtures - Industrial Store Clothing Racks and Displays
Pipe Store Fixtures and Industrial Rustic Retail Displays
Blending the industrial look of metal with the warmth of wood, our pipe store fixtures are a sturdy yet trendy way to outfit your store. These industrial merchandising displays are a throwback to vintage-style garment racks, adding instant character and personality. It's more than just a fashionable way to showcase merchandise, pipe store fixtures provide a rustic feel to your showroom, feature high-portability, and are easy to assemble. This back-to-basics look provides the durability to keep as much inventory out on the store floor without hindering customers' ability to browse.
Creating a unique shopping experience is central concern for any brick and mortar store. Industrial pipe store fixtures are perfect for boutiques looking to foster a rustic, urban, or vintage theme. Though they first became popular in antique stores, galvanized pipe store fixtures have become a staple in large clothing retailers and department stores in recent years.
From freestanding fixtures to wall systems, industrial store displays come in a variety of styles:
Pipe Garment Racks - incredibly versatile fixtures that allow for quick and easy layout reconfigurations. Their strength and durability can hold a generous amount of clothing, keeping more inventory on the floor and out of the backroom. Compared to other freestanding fixtures, these urban pipe clothing racks take up a small footprint on your showroom floor.
Pipeline Display Tables - tiered or nested for unobstructed viewing of merchandise. These industrial retail tables are often used for showcasing collections, typically as part of a store's focal point. With their rugged build, these display tables are engineered to withstand the abuse areas with heavy foot traffic.
Pipe Wall Outriggers - a unique twist on utilizing wall space. These hardy wall mounted units help reduce clutter on your retail floor by showcasing a large amount of merchandise at eye level. Customize your industrial modular wall system with wood shelves, hangrail pipes, and other attachments.
With Displays2go's pipeline store fixtures, you can create a cohesive look for your retail store. These retail fixtures can be used as standalone units or grouped with a collection of displays. For even more flexibility, our industrial wall outriggers are fully customizable and modular. Outfit a small section of wall space or build a complete wall system: these units can be ordered to suit any need.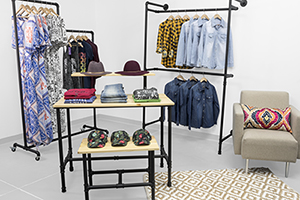 These pipe display fixtures from Displays2go promise an authentic industrial and modern look that instantly elevates the décor and aesthetic of your business. Pair these merchandising displays with other rustic accents like dress forms, vintage-style poster frames for signage, wooden barrels and crates, and more to complete the look.