Posted on 30, October, 2020
Last Modified on 02, March, 2021
Best Tablets for Promotional Events, Payments, & Off-Site Business
Digital tablets have evolved into a dominant multifunctional tool for artists, boutiques, college campuses, museums, and more. With so many companies all releasing new versions of their product on a yearly basis, it can be difficult for any business owner to settle on the best tablet for their business' kiosk.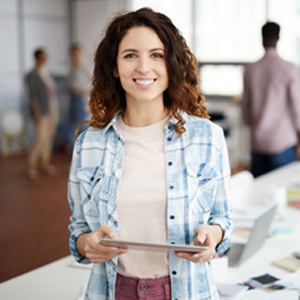 Data shows that upwards of 54 million tablets were installed in 2019 alone as mobile point-of-sale systems, never mind those units which replaced the traditional cash register at your favorite café, food truck, bar, or boutique. Tablets provide incredible versatility in their design, acting as payment processors and inventory management systems while still retaining their base functionality to browse the internet and communicate wirelessly. What's more, tablets are not confined to a specific area, giving businesses the freedom to take orders or payments by their guests table, on the grounds of a festival, or trade show floor with ease.
It's important to note that each retailer markets their tablet differently, so some may offer an included point of sale system, while others may simply sell the standalone device. Be sure to ask if your POS system includes a tablet with the sale, or if you will have to purchase a device that can run a compatible operating system afterwards. As with any product, each mobile POS tablet is suited for a range of work environments, so a little research goes a long way to choosing the best one for your business.
Best Tablets for Outdoor Events
When using a tablet in direct sunlight, you need a display that enables you to comfortably view your contents without glare or color distortion. No one wants to find themselves struggling to read their prices, menu options, or product catalogs while talking to customers in an outdoor setting due to a dim display. We measure the amount of light a display or tablet sends to your eyes by NITS (cd/m2), and your device should have a minimum value of 300 in order to overcome direct sunlight. Similarly, we take a look at battery life, which plays a significant role in your tablets prolonged brightness. Other factors that we must consider include the storage capacity, camera quality, and wireless external keyboard support. Best Tablets for Outdoor Use in Direct Sunlight
Samsung Galaxy Tab S 10.5"
Microsoft Surface Pro 7 12.3"
Apple iPad Pro 12.9"
Getac UX10
Each of these tablets provide a large surface area on-screen, allowing users to view more content on-the-go. While the Samsung, Microsoft, and Apple products are designed for POS systems and will require durable encasements for protection, the Getac UX10 features a rugged design intended for use on construction sites, to withstand fall damage, and to thrive in high-risk areas. Each of these devices will provide ample visibility in direct sunlight, making it easier for customers to view your menus or product catalogs, and for employees to manage inventory and payments.
Top Tablets for Point of Sale Systems
There are a plethora of companies offering point of sale systems for your business from third-party companies such as Stripe, Clover, and Square to native systems from Apple and Android themselves. In order to save time and money while still providing a quality device to your employees, it's vital that you find a tablet that is compatible with not only your business's needs, but the needs of your POS system as well.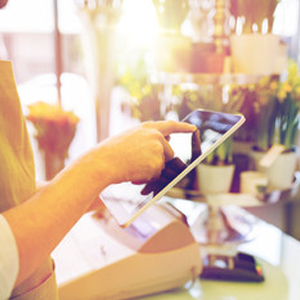 These devices must have ample ports for attachments, be compatible with standard mounting stations, have a solid battery life, high brightness, and sufficient storage to run multiple applications, manage inventory, and handle daily business functions.
Best Tablets for in-house POS Systems & Payment Processing
Sony Xperia Tablet Z4
Google Pixel Slate
Samsung Galaxy Tab S
Apple iPad Pro
Each of these tablets integrate well with the top point of sale systems on the market today and offer a range of use cases and function well in many industries. The Sony Xperia and Google Pixel Tablets offer simple, easy to understand interfaces that trained or untrained employees can pick up and use thanks to their intuitively designed digital interface. Likewise, the Samsung and Apple Tablets both feature operating systems that most people are familiar with, considering they use a mirrored version on their phones. Preference between Samsung and Apple will likely boil down to what the user is already comfortable with using. Each tablet listed is versatile in that they can handle orders, menus, payments, inventory management, and the full array of what your employees will need to assist their customers.
Best Value Tablets For Trade Show Booths
From customer-facing demos and payment processing to in-office content and inventory management, tablets have become a dominant tool in the business industry. The ongoing trend sees these devices replacing laptops due to their ability to match their processing power, storage capabilities, and battery life while enjoying more versatile use case options. Further, tablets tend to be less expensive than the traditional laptop, making them an easy investment for small and large businesses alike. The advantages these units provide trade show exhibitors on the road is immense, allowing business owners the opportunity to share a window into their work with any customer at a glance, simply by turning a display mount chalk full of promotional content toward them. By providing guests with an interactive, user-friendly experience, booth exhibitors build stronger relationships and memorable experiences. A trade show booth tablet needs to be lightweight and slim, easily portable alongside a swath equipment, and yet it needs to have the processing power, appeal, and impact of a computer.
Most used Tablets in the Trade Show Environment
Galaxy tab A 10.1"
Galaxy tab S5e
HUAWEI MediaPad/ M5 8.4"
Apple iPad Pro
Huawei MediaPad M5lite
Each of these tablets provide ample battery life and powerful processing all within a compact, travel-friendly design. Mount your device to a swivel to easily take customer payments, signatures, or share product catalogs with ease. These lightweight business tablets help exhibitors net more client sales by keeping valuable information easily accessible and at their fingertips. Affordable trade show tablets will not break the bank, allowing businesses to invest more heavily in other aspects of their booth such as backdrops, signage, and display cases. Displays2go offers a plethora of trade show booth equipment, including all-in-one exhibit setups to make your next event's display run smoothly. Coupling the right technology with the right environment is sure to make an impact on your customers.