Posted on 26, May, 2015
Last Modified on 28, February, 2023
When shopping around for custom t-shirts, tablecloths, or tote bags, you may see many foreign sounding printing types available on various printers' websites. You're probably wondering what the difference is between all these very similar sounding printing options - like heat transfer vs screen printing. In this article, we'll help you decide which printing process is best for you by breaking down the differences between these two common printing types.
Screen Printing vs Heat Transfer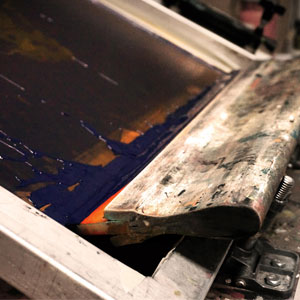 Let's get right down to it. When a design is produced using the screen printing method, actual screens are used in the process! Essentially, this screen is cut to make a stencil for the design. Ink is then spread over the screen, passing through to the object underneath only in the areas you want it to be. Only one color per screen can be used - so depending on the number of colors in the design, you'll need multiple screens to produce the final item.
The heat transfer printing method applies custom designs to items like t-shirts or tablecloths through a process that uses a combination of heat and pressure. Common kinds of heat transfer printing include vinyl heat transfer and digital print heat transfer. With the vinyl heat transfer process, a machine is used to cut out designs and letters in pieces of colored vinyl. A heat press is then used to transfer each vinyl color of the design onto the object being printed. With digital print heat transfer, the desired graphic is first digitally printed on special heat transfer paper using a solvent ink. This type of ink allows the design to be transferred from the paper to the item being printed when pressed with heat. With both these types of heat transfer, a heat press machine will be needed to transfer the graphic, either vinyl or digitally printed, from one surface to another. It's the magical combination of heat and pressure that transfers the design!
Which Printing Type Should You Choose?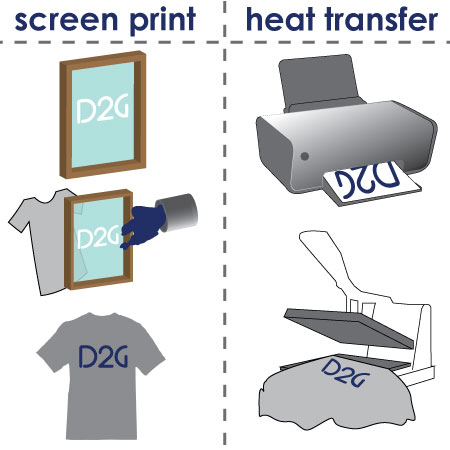 The best printing type for you depends on what type of item you are customizing and how many you would like in total. Because unique screens need to be cut for each color of a screen printed design, it is much more cost effective to produce a larger number of items with this method, versus just a few at a time. For example, we prefer screen print orders of at least 500 units. Conversely, the heat transfer process is the same with every print made, so you can order just a couple items at a time without costs ballooning.
Heat Transfer Printed Tablecloths
When using the heat transfer method for printing on larger items, like table covers, a large heat press machine is extremely helpful, and sometimes necessary. Custom tablecloths tend to call for have wider designs, so a standard tabletop heat press might not do the trick. For these types of projects, it might be best to hire a professional. At Displays2go, for example, we have 2 industrial size heat transfer machines that make our turn around process for custom printed tablecloths incredibly short. In fact, many of our heat transfer printed table covers ship in 24 hours! Check out the available options below.
Did You Know?
Screen printing vs silk screen? They are the same thing! When the process of screen printing first appeared in China, they used actual silk to make their stencils - hence the name silk screen!
Heat transfer vs dye sublimation? Dye-sub printing is actually a form of heat transfer! Graphics are digitally printed and then heated to transfer the dye onto chosen items. This printing process is commonly used from custom banners, signs, water bottles, or pens.