Posted on 21, October, 2015
Last Modified on 11, February, 2020
Shop Products from This Article
Marketing gamification is a proven strategy for increasing engagement as well as building excitement at events. One of the easiest, and most cost effective, promotional tools for attracting attention is the classic prize wheel spinner. The beauty of this type of simple spinner is its versatility – editable Spin the Wheel games easily adapt to use in any environment. Write-on, dry erase styles and print-your-own templates mean that each fixture can be customized for every use, making it a perfect choice for everything from gathering leads at trade events to creating brand buzz via peer-to-peer promotion to making classroom learning fun for students. And in every case users such as marketing teams, salespeople, teachers, and even home users, will reap the benefits that are built into gamification concepts. Spin the wheel games are designed to generate gratification, both long-term and instant, simply by offering rewards through competition.
What are the best Wheel of Fortune game giveaway ideas for creative promotion?
Goods –

Sample products make great takeaways as they remind customers of your merchandise each time they are used. Even unbranded gifts such as event tickets, gift cards, or gift certificates, turn into experiential marketing tools when given away as promotional prizes.

Services –

Offering free services such as free financial planning sessions, opening deposit bonuses, free sessions with a personal trainer are ideal for introducing your company to new prospects. People are much more willing to try something new if there is no friction associated with the trial.

Discounts –

By gamifying the discount amount, businesses not only increase engagement in each transaction itself, but can also help increase individual margins by minimizing the number of large discount slots. A customer who receives only a 10% discount will have enjoyed the experience as much as the customer who landed on the 40% discount slot.

Swag –

Branded merchandise becomes something more than a simple handout when used as a spin it to win it game booth prize. Companies can build excitement by offering a minimal amount of "high-ticket" corporate branded giveaways to tempt customers while making sure that less expensive brand merchandise is viewed as a reminder of a fun experience and not simply something they were given at a booth.

Interactive Activities –

Encouraging potential customers or clients to interact with your brand instantly forms a connection. Branded selfies are increasingly popular and serve multiple marketing purposes as they are designed for social sharing on public platforms. Turning customers into brand ambassadors is a highly effective (and inexpensive) marketing tool.

Raffle Entries –

Offering a chance for customers to win high end prizes via a raffle is a proven method of getting people to sign up. Using a random spin wheel with write-on surface to select from different options (gift basket choice, movie tickets, gift certificates, etc.) helps build excitement while increasing face-to-face time between staff and customers. The more customers interact with representatives, the more chance of conversions.
Ideas for Spinner Wheel Games for Promotion, Activities, or Entertainment
Trade Show Booth Games to Attract Customers
Prize stalls at events are customer magnets. Turning a trade show table into a carnival-style game is a simple matter of adding a portable prize wheel with customized giveaways. No matter how small the prize, customers will love winning it!
Perfect for:
Trade Show Booth
Conference Table
Game Ideas
Spin for Branded Swag
Spin for Selfie Props
Spin for Taffle Item Choice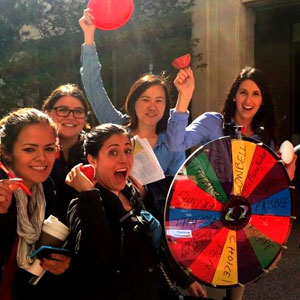 Spin The Wheel Office Game Ideas for Work
Prize wheels add an element of fun to any environment, which makes them great for both adding life to dull events and making fun activities even more enjoyable. Adding a free gift option is a great way to increase engagement for employees, students and even family members!
Perfect for:
Employee Appreciation or Recognition
Office Party
Classroom
Home
Game Ideas
Spin for Company-Branded Items
Ice Breaker Questions
Spin for Award/Reward
Team/Project Picker
Allocate Chores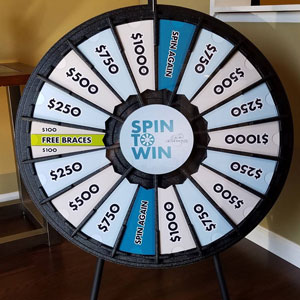 Fun Spin the Wheel Games to Boost Everyday Business Operations
When customers know they're going to win a prize every time they visit your office, they will want to come back. Similarly, offering a "let the wheel make your selection" option for menu items or specials can in itself become a draw.
Perfect for:
Dentist Office / Doctors Office
Bar/Restaurant
Car Dealerships
Banks, Credit Unions & Financial Institutions
School Classroom
Game Ideas
Spin to Randomly Select Menu choice
Spin for Free Service or Discount
Answer a Survey Question to Spin for a Prize
Spin to Choose Question Category
Allocate Chores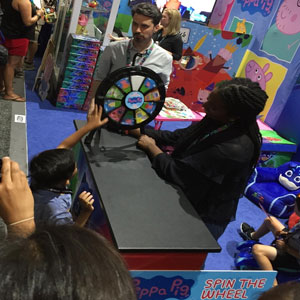 Games to Play with a Spinning Wheel at Off-Site Promotional Events
Standing out from the crowd at crowded events can be a challenge. Job and career fairs, art festivals, and other types of specialty expos mean that it can be hard to show customers what differentiates your products and services. Spinning for a sample product or service (fitness training, job coaching, resume review, makeup tutorial, etc.) not only shows off your merchandise, it will help attract visitors!
Perfect for:
College/Job Fairs
Food Festivals/Markets
Specialty Expos (Bridal, Flower, Home Shows)
Radio/TV Media Booths
Game Ideas
Spin for Gift Certificate
Spin for Free Sessions
Spin for Themed Gifts
Perform an Action to Spin for Raffle Entry
Allocate Chores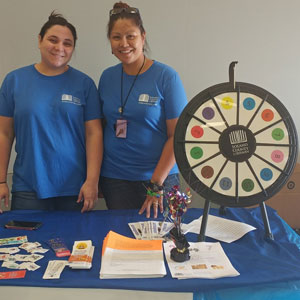 Spin-the-Wheel Carnival Game Ideas for On-Site Marketing
In-store events are ideal for attracting new customers as well as up-selling to existing clientele. Nothing is as simple as offering a free spin of a prize wheel in exchange for a list, trial, or sample!
Perfect for:
Retail Stores
DIY Experience Businesses
Restaurants
School Fairs
Game Ideas
Spin for Discount Amount
Sign Up for Mailing List to Spin
Spin for Free Sample
Share Your Prize Wheel Ideas!
We would love to see how you're using your prize wheels. Show us on social media by tagging your photos with #Displays2go and you could get featured!