Posted on 27, May, 2015
Last Modified on 28, February, 2023
If there's one thing people love more than eating food, it's eating food outdoors. Al fresco dining can be invaluable to restaurants that offer outdoor seating, especially if it's done right. However, one of the biggest factors that a restaurant owner must tackle when setting up an outdoor seating area is good old Mother Nature. From blinding sunlight to torrential downpours to frigid temperatures, she's got an arsenal of means to ruin your customers' outdoor dining experience. Here are several ways you can battle the elements and keep your restaurant's outdoor seating area inviting and comfortable for your customers.
Cook Your Food, Not Your Customers
Those beautiful sunny days are what drive people to the beaches and then on to your restaurant's outdoor patio. However, anyone who's coated their body in Aloe Vera after a sunburn knows there is such a thing as too much sun.
Keep things cool and shady for your diners with these tips: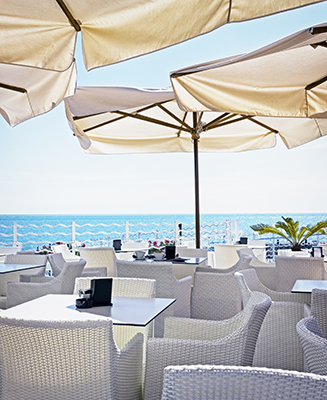 Umbrellas - One of the most versatile options, umbrellas come in nearly any size, design or color. Many even come with custom printing and graphics, giving you a great opportunity for branding and promoting your restaurant.
Awnings - Though not as portable as umbrellas, awnings are a more permanent way to give your outdoor dining some shade. They're also great for restaurants with sidewalk seating.
Fans -Strategically positioned fans can help keep your guests cool. Be mindful of how powerful your fans are: you don't want your guests to feel like they're dining in wind tunnel.
Mister Fans - Though these may keep your customers cool, it will also make their food soggy. Use tactfully in areas where only beverages are served and away from food.
Water Dispensers - Keeping hydrated during warm days is crucial. If your servers aren't able to keep up with filling water glasses, place a water dispenser with cups in a shaded area for customers to use free of charge.
Chilled Mugs, Not Chilled Guests
Whether your outdoor dining area is open at night when the mercury drops or if you're extending your outdoor seating season into the colder months, you must offer a way for your customers to stay warm and comfortable. Keeping your outdoor dining open later into the season offers you more seating options and with it more profits.
Patio Heaters - These standing heaters can be moved and stored easily to suit your changing needs. Pair with awnings or enclosed patios to trap the heat.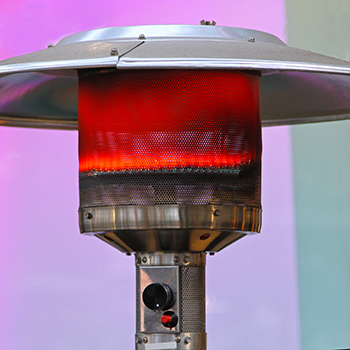 Tabletop Heaters - Running off of your restaurant's electrical current, these tabletop heaters are less expensive than patio heaters. Due to their size, they can only power a small area.
Portable Heaters - These are more powerful than patio heaters and are easier to transport, making them great for restaurants that also offer catering services.
Fire Pit - Though it may not be a practical heat source during the winter months, fire pits are great for summer evenings and create a natural social center.
Blankets - If patio heaters and fire pits aren't in the budget, simple blankets may be an affordable option. Not only does it circumvent the heat problem, but it also makes your outdoor dining a more personal experience and makes your customers feel more comfortable.
Bugs: Your Unwanted Guests
Guests shouldn't be swatting away flies and slapping mosquitoes off their bodies while attempting to enjoy their food. They should be eating in peace instead of being eaten alive. Bug spray may do the job, but you want to avoid those harmful chemicals getting into your customers' meals.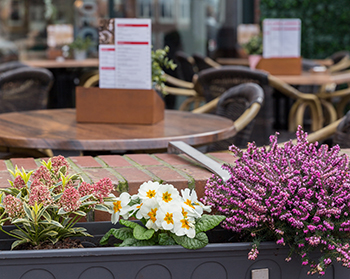 Naturally-Repellent Plants - There are plenty of plants and flowers that naturally repel insects. Also, they are a great way to beautify your outdoor seating area.
Mosquito Nets - Depending on your outdoor patio's configuration, you may be able to surround the area with mosquito netting. This may be effective for evening eating or restaurants that are located in muggier areas near water.
Candles - Candles and tiki torches containing insect-repellent chemicals, like citronella oil, can keep insects away for as much as 36 hours in a contained area. Though not as effective as other options, these candles also add to your patio's ambience.
Bug Zappers - Though great for killing a large amount of bugs, they aren't great at killing mosquitoes. Position out of sight, as the light and noise may distract and annoy guests.
Takeaways
Outdoor eating is supposed to be a fun, laid back experience for the customer. As a restaurateur, you want to do to as much as you can to give them that perfect meal, even if Mother Nature has other plans. Help make sure you win the battle against the elements and fortify your restaurant's outdoor dining area against sun, frost, bugs, and more.