Posted on 19, October, 2022
Last Modified on 06, March, 2023
Location is a key factor for a successful trade show appearance and generating great ROI. With hundreds or even thousands of options to choose from, it can be overwhelming to have to decide which spot is the best location for your booth. Whether this is your first time attending a trade show or your tenth, we're here to provide insights to help you make the most informed decision.
Do Your Homework
As tedious as it may sound, this is the most important step. You want to get a feel for how the exhibit hall is going to be set up. If a floor plan isn't readily available, don't be afraid to ask the host of the show. You may also want to ask for event setups from past years to get an idea of the layout. It's rare for an event to change a layout if they are using the same venue. There would be limited changes available, so the likelihood of the layout being the same is very high.
When you have access to a floor plan, study the areas that would have heavy foot traffic. This would include the entrance, restrooms, café, restaurant, sponsored booths (usually island booths) and stage. These are the best areas for your booth's visibility.
It is also important to figure out how booth selection works for the show. Is it based on seniority, first come first served, or does the host select placement? Ask the host about the selection process: will they reach out to you if your preferred options aren't available or confirm your booth selection with you? Knowing what to expect when it comes to selecting your booth can help you plan for a successful show.
Plan Early and Have Options
Most shows allow exhibitors to select their booth based on sponsorship and seniority. This means that sponsors would choose first (they usually are the big names in the industry) and sometimes the floor plan is set up around their large booth. There also could be smaller sponsors with 10' x 20' booths that would select after and so forth.
After all the sponsors choose, those who exhibited in the past would get to choose, and then it's first come first served for first-timers. Depending on how many returning exhibitors have re-applied, you may not get your desired spot, so it's crucial to have multiple options. We suggest having at least three different booth locations in mind. You generally can put your options right on your application. This gives the show host an idea of where you want to be located if none of your options are available.
Nearly all exhibitors apply for a 10'x 10' especially if this is their first time exhibiting. This is why it's vital to get your application in early. Repeat exhibitors will re-apply for the following year while the current show is taking place, so by early we mean up to a year in advance.
Traffic Flow
The best locations for your booth are going to be where the traffic flows. As mentioned above, these areas will provide you with the best visibility. So, what locations have the most foot traffic?
The Entrance - This is a guarantee for the maximum amount of foot traffic. Some shows will have more than one so consider which would be the main entrance. Your booth will be the first thing visitors will see so you can capture their attention right. On the other hand, keep in mind that the entrance can get congested. This may cause your booth to get overlooked. If you think that may happen, consider being a little further from the entrance instead of right next to it.
Intersections & End Booths – The major walkways in the floorplan will most likely show you a path or paths leading towards the biggest booth, the show sponsor. Where those paths cross would be excellent spot for your booth. Not only would you be near the biggest sponsor, but visitors will see your booth from different angles, giving you more visibility. Another great location to give you visibility in different angles are end booths. These booths are last or first booths in the aisle. They provide visibility straight on and from the left or right. Compared to a booth in the middle of the aisle visibility is only available straight on.
Areas of Attraction – These include food stops like a café, vendor station, or restaurant; restrooms; a stage; or any show amenities like a charging station. These secondary locations will provide foot traffic given their respective attraction. Expect coffee breaks and lunch time to bring traffic the food areas. If there is a stage, consider if there will be speakers, shows, or lectures in that area. This will be a prime location for capitaling on natural foot traffic.
Floor Plan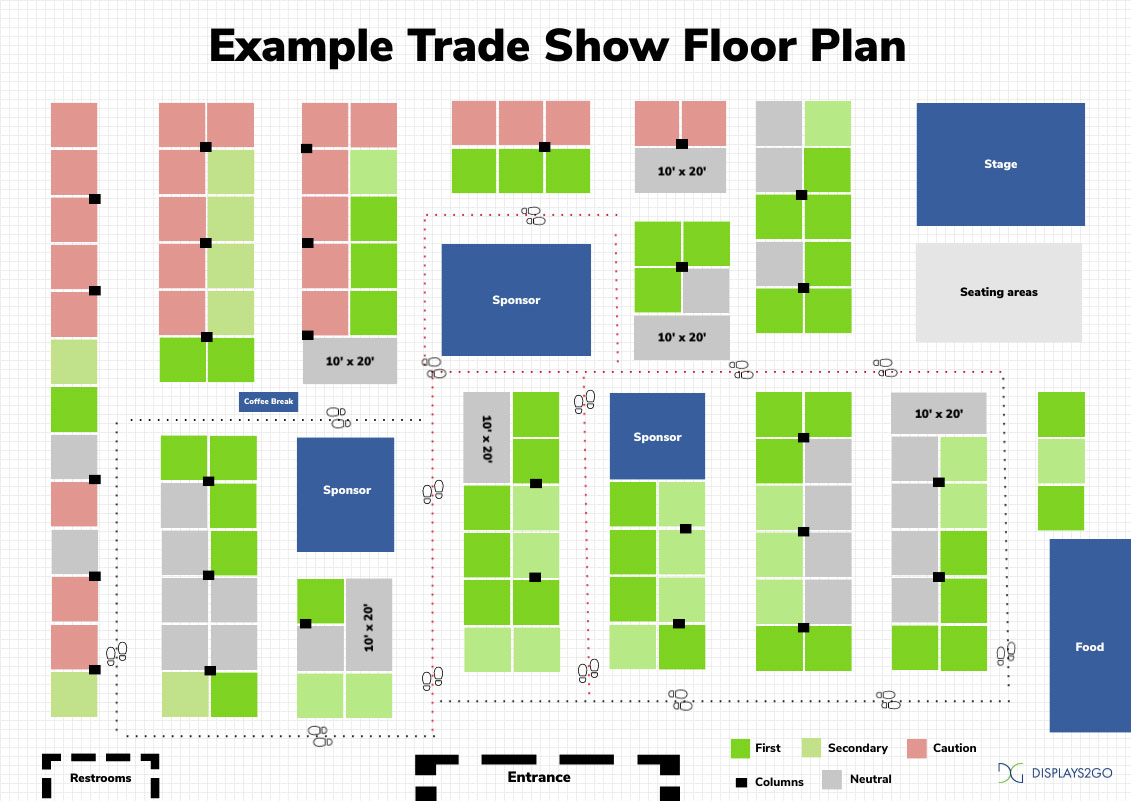 Locations to Avoid
Avoid having a booth right next to your competitors, especially if this is your first time exhibiting. If possible, find out where they are located. Don't hesitate to ask the host about specific competitors and if you can have some distance from them. Worst case scenario, they could have a flashier booth than yours and your prospective customers could be deceived into thinking they have higher quality products and services. Research what your competitors have done in the past to get an idea of what their booth will look like. Nowadays, everyone is on social media, so they will most likely advertise their booth there.
Also avoid low traffic areas. As a first-time exhibitor, it may be difficult to know which area will see the least amount of foot traffic. Look for locations on the floorplan that are in the back or have dead ends. These areas won't have any attractions or will be the furthest from any points of interest, so attendees won't naturally head there. The floorplan may also show the building structures like columns, which can disrupt your view. Also consider the placement of HVAC vents, which could make the area uncomfortably hot or cold depending on the season.
Main Takeaways
1. Plan early – up to a year in advance
2. Find out how the booth selection process works
3. Select at least 3 booth location options
4. Locate the areas that will have the most foot traffic
5. Choose a spot near the entrance for maximum amount of foot traffic, but be mindful of congestion
6. Choose major walkways and intersections for multiple angles of visibility – most paths will cross near the biggest booth
7. Try for an end booth, but remember that being in the main aisle is a great spot for visibility
8. Look for show amenities – food, restrooms, a stage, or stations – these areas will bring in foot traffic
9. Research what your competitors are doing and avoid being right next to them
10. Avoid lower foot traffic areas like dead ends, columns, and HVAC vents