Posted on 03, February, 2020
Last Modified on 25, August, 2023
What is a Wall Mounted Selfie Station and Why Does Your Business Need One?
Halo ring lights have rapidly become a must-have social engagement tool for event planners, influencers, shopping centers, and anyone who enjoys creating impactful, whimsical, spur-of-the-moment photoshoots. Wall mounted selfie stations allow users, whether at a large-scale venue, small office, or in the comfort of their home to supercharge their online presence with the spirit of a vintage photo booth. Luminous ring lighting provides ample brightness instead of a traditional flash, giving the photos of you, your friends, and customers a professional appeal. A wall mounted selfie station will swiftly become your new favorite hands-free social media tool. Allow your guests to take memorable photos and connect with them at a later date by sharing the images and continuing the conversation. A well-placed selfie station is like rocket fuel for your social platform, creating more points of connection, more social proof, and more impactful moments for your customers to talk about.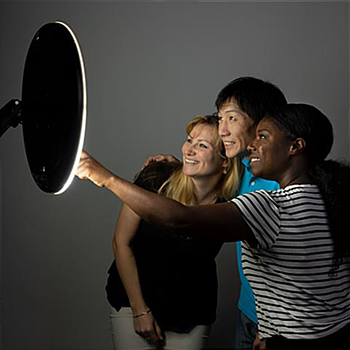 Which Industries Benefit Most from A Wall Mounted Selfie Station?
Your Retail Store Needs an Instagram-Ready Ring Light
The best marketing is free marketing – so why not set your retail clothing or department store up for success? Encourage your customers to take photos with exciting new products and post them to their social feeds. Better yet, use a lead management apps to gather each customer's email or phone information before sharing so that you can reach out on a later date to inform them of new products, sales, and events.
Adding a wall mounted selfie station to your showroom floor can help your store stand out from others in the same shopping center, especially for solo customers who may need to snap a quick pic to share with a friend for a second opinion before purchasing. These photo booth systems bring out the quirky side of your patrons and allow them to have fun with your products before bringing them to the checkout counter. Build a better relationship with your customers by adding a selfie station to your toolbox.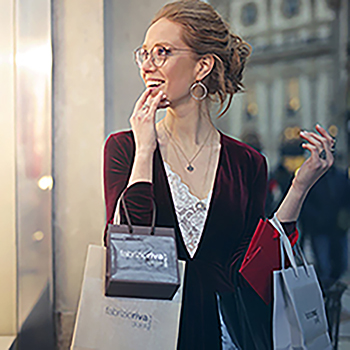 Turn Restaurant & Bar Happy Hours Into Engaging Photo Shoots
Do you have a café, bar, or restaurant that's the go-to social hub on the block? Boost your online presence and brand recognition further by installing a wall mounted selfie station in a highly accessible location, like near the jukebox to add extra flare to karaoke night. A restaurant photo booth is a great way to expand your footprint online, filling customer's social feeds with watermarked or branded content that makes your location immediately recognizable. What's better than having hundreds of visitors promote you?
Integrate highly engaging filters through the photo app of your choice such as Instagram, Twitter, Facebook, or Snapchat to allow customers' post to appear directly to your story, once approved, for others to see what all the hype is about. These apps can easily capture email, phone, or account information as well – organically growing your social platform with a hands-off approach. In no time, your restaurant or bar will be trending on local social feeds and will be more likely to receive positive reviews when the photos are shared saying, "You've got to check out this spot!"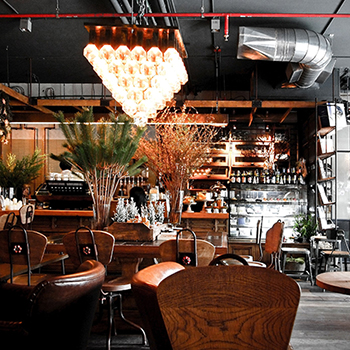 Mounted Ring Lights for Influencers, Beauty Stores, Salons, Home Makeup Vanities
For social media influencers, a professional at-home lighting and photography set up can make or break a channel. A wall mounted selfie station with ring light is a great addition to any influencer's toolbox, especially for those who share videos packed full of beauty tips, product recommendations, or life updates. Simply install a selfie station beside your vanity or desk, plug in your phone, click record and start to create quality content.
Selfie stations have found a home in beauty stores and salons as well. There's no better feeling than having a fresh makeover or haircut. Since many clients will be eager to share their new look with their friends as soon as they get out of the chair, direct them to your photo booth to not only take a quality photo for themselves, but also to generate content to share on your own feeds and gain more exposure. Word of mouth used to be, and still is, the livelihood of many cosmetologists, so a strong social feed is an indispensable tool for growing a clientele base.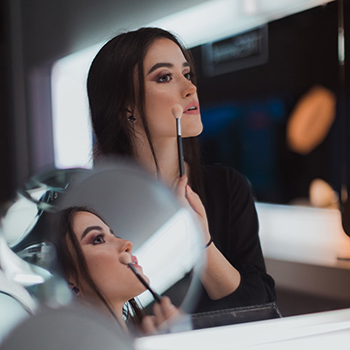 Increase Guest Referrals & Build Email Lists with Social Check-Ins
Modern problems call for modern solutions, so why not include a selfie station to help restless guests or kids unwind after a long flight or drive to your hotel? An impromptu photoshoot (with your hotel's branded logo or location) could be a great way for your guest to tell their friends and family that they made it to their destination safe and sound! Allow your guests to upload images to their social feeds via their personal phone or to your company's, (pending approval), tagging your hotel and telling the world about the plans they have for their vacation or a date night out on the town.
An effective marketing campaign would allow hotels to brand each photo taken from their stations or provide a plethora of fun filters to choose from. Customers can connect within one of many customer relationship apps and share their emails and phone numbers to earn special promotional offers, points toward a free stay, or even newsletters about local events – all significantly boosting social engagement. At check-out, a selfie station is a great way to send your guests off by asking for a positive review or customer referral.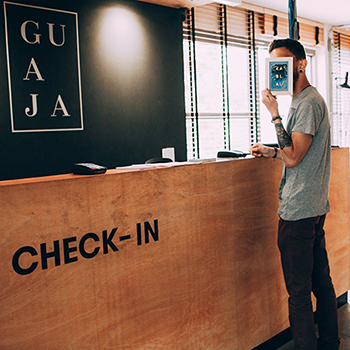 Enrich, Expand, and Engage with your Social Platforms like Never Before
Let's face it: the world has evolved, and companies have to be much more than a storefront and a friendly smile. Even small-town corner shops have made significant leaps into the digital environment and prospered thanks to a little ingenuity, exposure, and hard work. Your product or service is worth sharing, worth talking about, and worth the time you put into it — so why not give your project the tools it needs to reach the largest audience? Our wall mounted selfie stations have found a home in every industry, both conventional and unconventional. Think about this: a dentist or orthodontist wanting to grab a quick picture of their patient's bright new smile, a fashion designer sporting a new look, a local brewery gathering a group of friends together, or even someone in the comfort of their own home snapping an Insta-worthy photoshoot.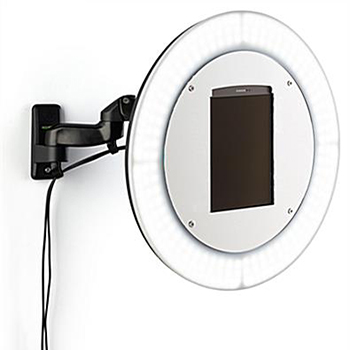 With a wide variety of style and design options, it's not difficult to find a selfie station that can suit your needs. While our wall mounted models are great for stationary use, we provide a solid list of portable ring light photo booths which are ideal for use at parties, social gatherings, or any other time when a photo-op may come and go. Store a free-standing model while not in use, and break it out to add a fun social element to your next function. We even offer custom photo booth graphics to cater to a specific event. With selfie stations by Displays2go the possibilities are endless. Where will they take you?