Posted on 22, July, 2020
Last Modified on 25, August, 2023
Shop Products from This Article
In the custom signage industry, we all too often find a gap between the expectation in a customer's design versus the real world execution of it. Between budget constraints, choice of material, and printing process, there is a lot that can frustrate a customer along the way.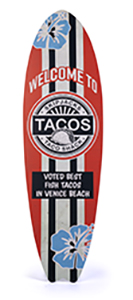 We at Displays2go have dedicated ourselves to reducing that gap by opening clearer lines of communication through the design process, placing more tools in the hands of our customers, and promoting transparency along the way. Palboard® is the latest effort in our line to reduce pain points — from the initial design, through the printing process, and ultimately to the day your new Palboard® sign is bringing new customers through your door.
Palboard® is a multi-layer board which combines a durable PVC surface with a low-weight foam core, which comes together to be easily portable while boasting an extra-tough shell to last in high-traffic areas. What's more, the white PVC surface allows for our digital printing process to create incredibly vibrant colors that would not be possible with other substrates. Due to the hard PVC shell, customers can expect smooth and crisp edge cuttings which help each graphic sign retain a refined and smooth structure even after cutting into a custom shape. With careful planning through the design process, customers are able to plan interlocking 3-dimensional signage, a surefire way to grab the attention of new customers.
How do Our Customers Best Utilize Palboard®?
Palboard® is most often used in retail stores, shopping centers, trade shows, or any other customer-facing industry where innovative signage can drive additional sales. Between the durability of construction, the graphic printing quality, and the ability to create custom-shaped signage displays, Palboard® offers near-endless opportunity.
How have our customers used Palboard® to market their business?
Palboard® signs are great for giving your store or bar logo a one-of-a-kind silhouette. Bakeries could use a cupcake or a loaf of bread, allowing passersby to quickly associate these foods with the business. Bars can benefit from a beer bottle or cocktail glass design. Our customers have come up with a plethora of distinctive forms that are easy to recognize and will attract customers, old and new.
Cut shaped Palboard® signage into incredible, interlocking designs to create displays that seem to come alive. We have seen customers dream up one-of-a-kind 3-dimensional shapes such as animals, cars, furniture and more through careful planning during the design process.
Customized Palboard® signage can function for facilities management and wayfinding as well, showing passersby hsignageind your business with arrow-shaped signage. It's a great way to create feature specific directions suited to your location. If your store is elevated above the sidewalk, a double sided graphic pointing up and to the side would show passersby exactly where you are.
How to Create a Palboard® Sign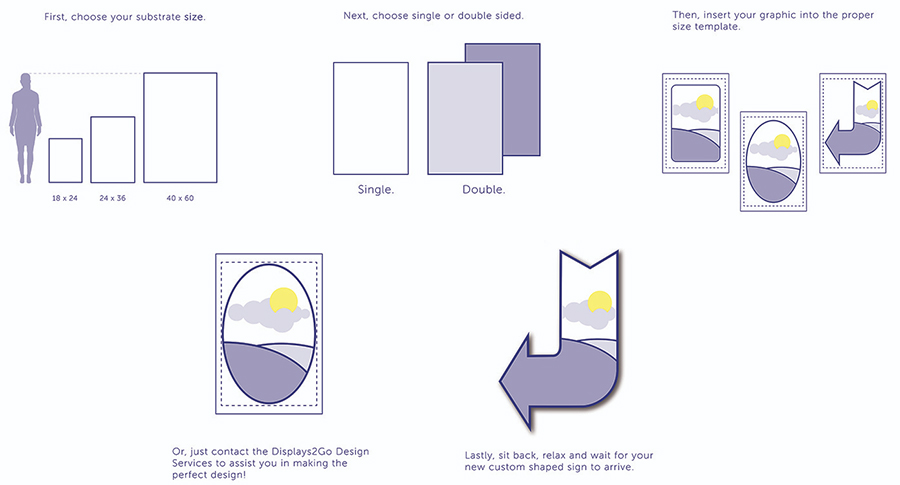 Palboard® gives you the freedom to implement your vision in ways that traditional sign frames do not allow. Why confine your graphics to square or rectangular shapes tucked behind a glass panel when a shaped sign specific to the product you are selling will not only grab a new customer's attention, but be a memorable piece of media once they have gone. Displays2go customers work closely with our design team to upload unique shapes, designed, and graphic requirements upon ordering to create one-of-a-kind custom shaped foam core signage to accommodate a wide variety their business' needs. Palboard® is a relatively new material that is taking the industry by storm due to its lightweight and near-solid foam core and durable PVC multi-layered surface. These signs can be cut into any shape you desire with complete accuracy while boasting vivid custom graphics.
Where Will You Display Your Shaped Palboard® Signage?