Posted on 08, April, 2015
Last Modified on 21, April, 2015
Safety in the workplace is extremely important for not only workers but also customers in retail or service settings. Accidents can happen anywhere at any time, so you will want to make sure your business is ready with proper first aid kits and emergency response protocols. You'll also want to provide your staff with the proper training to manage threats and injuries. Take a look at these tips and guidelines, so you can keep your staff and customers as safe as possible in the workplace.
Complying with Legal Safety Standards
There are a variety of legal stipulations that must be met with regard to safety procedures in the workplace. OSHA, or the Occupational Safety and Health Administration, is a government agency under the Department of Labor that was created in 1971 to "assure safe and healthful working conditions for working men and women by setting and enforcing standards and by providing training, outreach, education and assistance." Businesses must comply with these federal regulations to avoid facing fines and even jail-time in some extreme cases. Likewise, companies must also comply with state and local laws. Be sure to research applicable safety laws for your business to ensure you are in compliance.
Educating Your Staff
Properly educating your staff is the next step in developing your workplace safety procedure. Several institutions, including Red Cross, provide programs that streamline the training process. Employers can choose from different plans, ranging from full on-site workshops that educate all employees to individual online learning. They even have programs that blend a little of both on-site and online education. Red Cross also sponsors community classes, offers free online refresher courses, and allows certificates to be printed off their website.
Any business that is serious about workplace safety should appoint at least one person as the head of their internal program. Red Cross even offers a plan where they send representatives to train the safety manager, and then that person continues to train the rest of the employees. Choose the training option that best suits your needs. When selecting a plan, consider how serious the dangers of your workplace are. Are your employees working in a manufacturing setting that deals with heavy machinery or chemicals? Or, are your workers in a more traditional office setting? Assessing the work area is imperative to implementing the most successful workplace safety plan.
First Aid & Emergency Response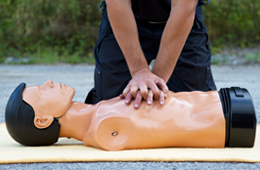 After your employees have been trained on the basics of workplace safety, you will want to ensure that several members of your staff are qualified to perform first aid, CPR, and AED. First aid response training will get your employees ready to treat burns, lacerations, and musculoskeletal injuries including those to the back and neck. CPR, or cardiopulmonary resuscitation, training is necessary for dealing with breathing and cardiac emergencies. AED, or automated external defibrillator, training is a little more complex since medical equipment is involved but with proper instruction your employees will be able jump start the hearts of those in dire situations. Once you have assembled your team and verified their credentials, be sure to post a list of these certified employees in all applicable areas.
First Aid Kits
Now that you understand the legal regulations and have organized your team, it's time to put together proper first aid kits. First, assess the types of dangers your employees face on a daily basis. Next, decide which items to include in the first aid kits based on those specific risks. Because workplace hazards can differ so much from one company to the next, there is no mandatory or standardized list of materials to include. Below we've listed suggested items from both Red Cross and OSHA, so you can get a general sense of what to put in your first aid kits:
Red Cross
2 absorbent compress dressings (5 x 9 inches)
25 adhesive bandages (assorted sizes)
1 adhesive cloth tape (10 yards x 1 inch)
5 antibiotic ointment packets (approximately 1 gram)
5 antiseptic wipe packets
2 packets of aspirin (81 mg each)
1 blanket (space blanket)
1 breathing barrier (with one-way valve)
1 instant cold compress
2 pair of nonlatex gloves (size: large)
2 hydrocortisone ointment packets (approximately 1 gram each)
Scissors
1 roller bandage (3 inches wide)
1 roller bandage (4 inches wide)
5 sterile gauze pads (3 x 3 inches)
5 sterile gauze pads (4 x 4 inches)
Oral thermometer (non-mercury/nonglass)
2 triangular bandages
Tweezers
First aid instruction booklet
OSHA:
Gauze pads (at least 4 x 4 inches)
Two large gauze pads (at least 8 x 10 inches)
Box adhesive bandages (band-aids)
One package gauze roller bandage at least 2 inches wide
Two triangular bandages
Wound cleaning agent such as sealed moistened towelettes
Scissors
At least one blanket
Tweezers
Adhesive tape
Latex gloves
Resuscitation equipment such as resuscitation bag, airway, or pocket mask
Two elastic wraps
Splint
Directions for requesting emergency assistance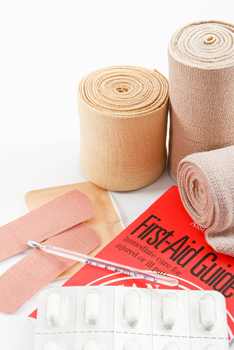 OSHA states the following regarding their list: "The [preceding] list sets forth the minimally acceptable number and type of first-aid supplies for first-aid kits required under paragraph (d)(2) of the logging standard. The contents of the first-aid kit listed should be adequate for small work sites, consisting of approximately two to three employees. When larger operations or multiple operations are being conducted at the same location, additional first-aid kits should be provided at the work site or additional quantities of supplies should be included in the first-aid kits."
After you've put your first aid kits together, place them in all high risk areas where your employees are working. These kits must be accessible, so you'll want to make sure that other business equipment and supplies are never placed in the way.
Additional Safety Gear
Further safety equipment may be necessary in certain industries, so make sure you've fully assessed the risks associated with your business and provided the proper items to your workers. Safety glasses, gloves, hand sanitizer dispensers, eyewash stations, chemical showers, harnesses, and hardhats are just some examples of additional items your workplace may require.