Trade Show Lighting Brightens Convention Exhibits w/ LED and Halogen Bulbs
---
Display Lights for Trade Show Booths - LED or Halogen Clip & Clamp Fixtures
Are you looking for more ways to attract attention to an important piece at your convention exhibit? Perhaps you're trying to find a better way to make custom graphics and banners shine or thrust a new product into the limelight. There are unlimited reasons you need to illuminate parts of your booth. Trade show lighting is an essential tool for any presentation by helping exhibits stand out from the competition and giving specific products the attention they deserve. We offer a variety of options, including models with halogen bulbs and eco-friendly LED's for those who are a part of the "go green" initiative. Choose from either spotlight or flood lighting to suit each exhibits individual needs. Booth lights, such as spotlights cast narrow rays on a focused target, while flood lighting will wash over larger spaces. Trade show lighting can be attached to exhibit backdrops, banner stands, and pop-up pieces with ease, increasing product exposure within seconds. Display lights, in the right places, will make presentations stand out among the competition and draw more attention from convention attendees.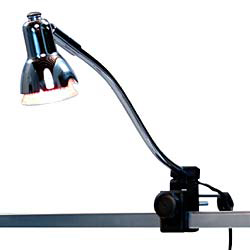 What are some of the the differences in LED or Halogen trade show lighting?
Halogen

Halogen bulbs function by burning gas through a tungsten wire inside the glass, which creates light. While similar, this is a great alternative to incandescent lighting. Halogen bulbs burn at a higher temperature, which vaporizes the tungsten wire rather than evaporates it. This leads to prolonged life and a clean appearance compared to incandescent lights which often leave black residue inside. Halogen bulbs create a warm glow, which becomes whiter the hotter it gets. Halogen bulbs have a similar look to traditional light bulbs, yet cost less to operate.

LED

LED lights are the most eco-friendly option, on average lasting up to 50,000 hours, reducing the need for replacements. These display lights use about six times less energy than traditional incandescent lights, which will save you money over time. LEDs burn with an incredibly vivid white light that is unrivaled compared to other bulbs and emit low levels of heat. New rules at some events may require LED bulbs, so be sure to check with your event coordinator!
Are you looking for a more in depth review on the differences between these types of lights? Check out our article on LED and halogen bulbs. What are the different features of these trade show lighting fixtures?
Trade show display lights function as either a spotlight or floodlight. Spotlights focus entirely on a specific, focused, area which is great for showcasing a specific product at your exhibit. Flood lights, on the other hands, will illuminate your entire display.
Some booth lights for trade shows are designed to fit specific pop-up stands and banner stands also offered on our site. Check and match the product SKUs in each description to find the perfect pair!
Many designs are meant to be used universally on a variety of convention fixtures. They're available with a height adjusting feature and a clip on/clamp bottom. This base style allows the fixture to be placed on many different types of exhibit pieces.
Some fixtures feature a swivel head to easily highlight any item in the exhibit. A few models are made specifically to emit a certain degree of light range — which comes in handy when trying to showcase a special area in your exhibit.
Check our guide for common convention regulations before making your final decision. As more companies join the "go green" initiative, we are seeing more and more customers lean toward LED show lighting. Some LED spotlights on our site are rated for 50,000-60,000 hours of continual use, however, they are more expensive than their halogen counterparts. Cost-friendly halogen lights are a great way for presenters to save money or those who run one-time events.
Displays2go carries everything you need to set up a successful, appealing, trade show booth. We carry everything from custom printed walls, to table displays, banners, interior accessories, and even all-in-one bundles for those who want a cohesive, unique, experience. Check out our exhibit booth supplies to view our full line of products. Create a one-of-a-kind trade show booth by uploading custom graphics on compatible products or take advantage of stunning standard designs. Equip yourself with the tools you need for success at your next convention with Displays2go.