Economy Retail Counters, Cash Wraps, and Point of Sale Displays
---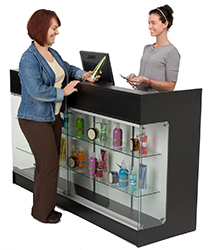 Budget Friendly Cash Register Counters for Retail Stores
Need an affordable point of sale fixture? Our economy retail counters are ideal for handling transactions, displaying merchandise, and storing necessary supplies. Choosing a cash register stand is important because it acts as the centerpiece of the store. These economy retail counters are available with tempered glass shelving, hidden storage space, and pull-out drawers. While these point of purchase displays are affordably priced, they're available in a number of styles to meet different needs. Economy retail counters are excellent for outfitting small businesses and store chains with good-looking checkout furniture.
What are the different types of merchandising cash register stands?
Our economy retail counters for sale are available as simple checkout areas. These ledgetop cash wraps from the MRC line are made of melamine laminated particle board in black, white, oak, and cherry wood finishes. Each merchandising fixture features deep, adjustable shelves for storing supplies out of sight. Browse furnishings that measure 2', 4', and 6' wide with both recessed and open tops. This style is available with a custom printed graphic panel for store logos. Each personalized image is mounted with silver finish standoffs for a professional promotional display.
The affordable retail counters with tempered glass panels are excellent for both featuring merchandise and handling transactions. This style of checkout fixture features a clear countertop with see-through shelving. These 3/4 vision display cases are great for showcasing high interest products. Customers can easily ask the cashier about items in the cabinet. Open the sliding doors to show interested patrons jewelry, watches, electronics, and antiques.
Half vision retail counters are all-in-one displays because they have a flat top for cash registers, a merchandise display area, as well as a storage space. This merchandising furniture is excellent for meeting all of these needs in one convenient place. However, because they have an space for storing supplies, there's less room for displaying wares. For checkout cases with the most merchandising potential, browse our full vision showcases with tempered glass panels, shelves, and doors. Confused by all the terminology? Read our authoritative article, "Display Case Styles Defined", to better understand what constitutes a full, half, or quarter vision showcase.
What other affordable store counters are part of the MRC line? Our tall showcases are ideal for featuring merchandise with a full vision display. This style features locking doors that protect wares from theft. With their frameless tempered glass fabrication, items can be viewed from any angle. We also offer affordable pedestal displays that create upscale displays for exhibits at a reasonable price. These cases for artwork and merchandise also feature secure locking doors. The MRC corner cases are great for linking cabinets and creating multi-unit merchandising configurations.