Trade Show Flooring - Portable 10' x 10' Carpet & Foam Mats
---
Interlocking Carpet and Foam Tiles for Trade Show Exhibit Booths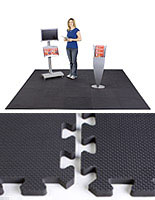 Want to reduce fatigue at commercial events? Our trade show flooring is made with comfortable foam and stylish designs. These portable anti-fatigue mats cushion exhibitors' and attendees' aching feet. Investing in foam tiles will be beneficial to everyone who checks out your exhibit. This trade show flooring will not only aid with comfort, it will brighten up your booth and complement other promotional displays. This line of soft tiles gives booths a professional appearance. Choose from a variety of different puzzle-piece carpet squares to enhance the fixtures in your promotional display. Often overlooked, this snap-together trade show flooring can complete your commercial event presentation. Don't let the dull tile floor of the event center hold your displays back!
What options are available with these foam puzzle mats?
Our trade show flooring are offered in a variety of colors to fit any setting. This includes black, gray, navy, and simulated wood finishes.
These interlocking mat systems come in various textures including soft foam or carpet. This wide selection of different textured tiles makes this product versatile for any environment.
One style not enough for you? We offer packs with multiple finishes in one to create checkerboard patterns, half-and-half designs, or any other arrangement you can think of.
How are these floor mats assembled and maintained?
Our foam and carpet squares feature a design similar to a jigsaw puzzle. Simply lock each tile together to form the 10'x10' mat. Assembly is easy and only takes a few minutes for one person to complete.
All of our portable flooring becomes a 10'x10' mat when assembled, which is necessary for compliance with commercial event regulations for standard booth sizes. Have a larger 10'x20' or 20'x20' space? Get multiple sets and place them side-by-side for full coverage!
There are three types of interlocking carpet tiles. Edges, corners, and center pieces form a singular 10'x'10 square with no rough edges.
The anti-fatigue foam flooring can be wiped down with a wet sponge and mild detergent when it's time to clean up your display. Carpet tiles can be vacuumed while still assembled for an easy cleanup.
Our selection of portable puzzle mats matches a wide variety of settings. Users can transform a dull concrete floor at an event into a comfortable, stunning surface in minutes. This tiling is not limited to commercial exhibit displays. They can also be used in daycares, creating a soft area for children to play on. Our portable foam mats enhance any space and take little time to do it!