Tabletop Display Easels - Acrylic, Wire, Metal, & Wood Finishes
---
Countertop Tripods for Displaying Art, Frames, Books, & Other Merchandise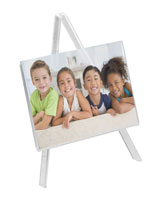 These tabletop display easels provide a simple and convenient way to showcase books and signage or help paint a beautiful picture. Tripod stands can bring attention to the products you want to stand out or easily prop a canvas. Small tabletop display easels come in a variety of styles to fit any setting. Choose from wood, wire, plastic, aluminum, and more. Portable tabletop easels will significantly increase the visibility of your products or trade show materials in your event booth. These display easels can be placed on any countertop without taking up too much space, leaving room for other items or to conduct transactions in retail stores. Many styles are compact and fold for portability and storage.
What can I use these countertop-style tripod mounts for?
Use tabletop display easels to showcase smaller items like advertisements on countertops and near cash registers to point at sales or special events.
Call attention to literature, brochures, and restaurant menus in commercial environments. With the variety of styles available, it's easy to find one perfect for your location.
Magazines, books, and other reading materials can be propped for demonstrations, classes, or for at home cooking in the kitchen!
Present pictures in small poster frames at homes and offices.
Art classes and paint nights can use these stands to prop canvases for painting and drawing. The small design lets the fixture easily line the tables of the studio, while still leaving plenty of space between students.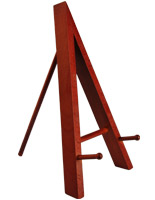 The numerous styles of our tripod stands and the many finishes they're available in makes it possible for these stands to complement any environment and its décor. The wooden display stands fold up easily and nicely blend in with wood finished tables. Looking for something more affordable? Wire mounts provide all the functionality needed while keeping costs incredibly low. These mounts are affordable, and definitely, don't lack in durability. The mini photo stands are easily foldable and look great. Buy in bulk to save even more money. If you're looking for book display stands based solely on functionality, then acrylic is the best option. These holders are affordable and practical, able to be used in any setting. Many bookstores prefer to use the acrylic displays because of the uncomplicated design. Running an exhibit or museum? Metal countertop tripods are your best option. The ornate designs and patterns of these displays feature unique designs and patterns to complement the interior. Utilizing little tripods and display stands is an effective way to market items and create POP displays on countertops. Make use of these fixtures to potentially increase sales. Displays2Go offers a large selection of easels for galleries, schools, book shops, restaurants, and stores.